What? AT&T got a No. 1 rating?
The mobile provider drives customers crazy with its poor voice, data and text quality. But it can claim victory in 1 area: 4G service.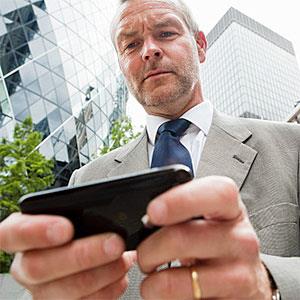 Well, AT&T (T) wireless customers, at least your carrier is good at something.
Consumer Reports published its rankings of the major mobile carriers Thursday and placed AT&T dead last in overall quality, dragged down by its particularly hideous voice, data, text and value scores. Verizon (VZ), meanwhile, took first place yet again and widened its lead over second-place Sprint (S) from just a point last year to six points this year.
So what's the silver lining to 63,000 surveyed customers ranking AT&T lower than T-Mobile in customer satisfaction? Its 4G LTE network was considered the best of any carrier and its higher-speed service received the fewest complaints.
That seems small consolation, but it's a big step considering Apple (AAPL) just released the iPhone 5 as its first 4G smartphone in September. The millions of those devices that immediately flooded the market -- and millions more stuck in the pipeline thanks to supply constraints -- make speed a valued asset. PCWorld clocked AT&T's 4G LTE network at 9.12 megabits per second, the fastest of any carrier.
With Verizon getting a head start by launching its now-widespread 4G LTE network at the end of 2010, Sprint's 4G LTE network finding its footing and T-Mobile planning to launch its own 4G LTE network next year, AT&T could use just about any edge it can get. As it is, the iPhone 5 isn't doing AT&T that many favors. Even with the new device in its arsenal, AT&T netted 151,000 new customers under contract last quarter. Verizon multiplied that by nearly 10, adding 1.5 million net contracts to its rolls over the same span.
AT&T notes that those 4G customers tend to spend more, with more than a third of customers enrolled in AT&T's new Mobile Share data plan introduced in July choosing the largest plans of 10 gigabytes or more. However, those 4G devices tend to pound company margins. AT&T's third-quarter wireless profit margin fell to 40.8%, down from 45% in the second quarter and 43.7% a year ago.
That's largely because the 4.7 million total iPhones sold last quarter made up 77% of AT&T's overall smartphone sales. Roughly 1.3 million of those iPhones were iPhone 5 units. Contrast that with Verizon, which had a 50% wireless profit margin last quarter after less than half of its 6.5 million smartphone sales were iPhones and only 651,000 were iPhone 5 units.
If playing in the high end of the mobile market is getting too costly, AT&T should rest soundly knowing it's getting high marks for low-cost phones as well. While low-cost and prepaid carriers like US Cellular, Virgin and TracFone all received accolades for their pricing and service -- even outstripping the major carriers in some cases -- an AT&T partner was a darling of the flip-phone crowd. Consumer Cellular, which uses AT&T's network, was lauded by users in the Consumer Reports survey for offering quality, no-frills voice and text service and taking monthly payments without a contract.
"Some smaller carriers that scored respectably in our ratings and offer low-priced plans, such as Straight Talk and Virgin Mobile, now offer fairly sophisticated smart phones," said Paul Reynolds, electronics editor for Consumer Reports. "And you can even save by switching a phone from a major carrier that's coming off contract to a prepaid plan."
Don't worry, AT&T. Even if you can't hang with the wireless industry's big boys, you still have fans among the mobile market's little guys.
More from Money Now
DATA PROVIDERS
Copyright © 2014 Microsoft. All rights reserved.
Fundamental company data and historical chart data provided by Morningstar Inc. Real-time index quotes and delayed quotes supplied by Morningstar Inc. Quotes delayed by up to 15 minutes, except where indicated otherwise. Fund summary, fund performance and dividend data provided by Morningstar Inc. Analyst recommendations provided by Zacks Investment Research. StockScouter data provided by Verus Analytics. IPO data provided by Hoover's Inc. Index membership data provided by Morningstar Inc.
MARKET UPDATE
[BRIEFING.COM] The stock market finished the Tuesday session on the defensive after spending the entire day in a steady retreat. The S&P 500 (-0.6%) posted its third consecutive decline, while the small-cap Russell 2000 (-0.9%) slipped behind the broader market during afternoon action.

Equity indices were pressured from the start following some overnight developments that weighed on sentiment. The market tried to overcome the early weakness, but could not stage a sustained rebound, ... More
More Market News