Gas prices headed lower
The Energy Department and AAA predict a drop this year, but they don't account for variables like storms or wars.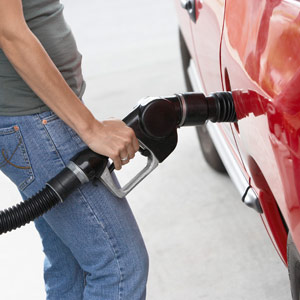 For perhaps the first time since the fiscal cliff debates began, the government has come up with an item whose price won't increase in 2013: gasoline.
Thanks to high supply and weakened demand, the average price per gallon should fall to 5% to $3.44, according to the Energy Department. That's still well above the dreaded $3-a-gallon mark and the third highest average fuel price ever, but it's 19 cents lower than last year's record $3.63 average.
It's also an average savings of $205 per household in 2013, which theoretically could put $25 billion back into other areas of the economy -- or, you know, into Americans' savings. That's assuming the Middle East doesn't flare up again, the hurricane season doesn't yield another Superstorm Sandy and the nation's refineries stay open and keep running at capacity.
It also ignores the expiration of last year's payroll tax deduction, which increases the Social Security levy from 4% to 6% this year and will cost households making $40,000 to $50,000 an extra $600 in 2013, according to the Tax Policy Center. Also, the Energy Department's recent history with this kind of prognostication has been spotty at best. In 2011, it predicted average gas prices around $3 just before Libya's revolution halted oil production and drove the national average to $3.53. Last year's prediction was $3.45, which also fell more than a little bit outside the mark.
AAA is steering away from the government annual average and, instead, is focusing on upcoming fluctuations in fuel prices. While AAA's average U.S. gas price sits at $3.31 per gallon, the motorist organization predicts that price could go as high as $3.80 this spring before dropping to $3.20 in mid-summer. That would be the lowest average gas price Americans have paid since February 2011, but may be short-lived depending on what hurricane season brings.
Of course, those prices are also still highly contingent upon where drivers live. Right now, drivers in Utah have the lowest gas prices at an average $2.88 a gallon, while New Yorkers are still dealing with Sandy's aftermath as they pay $3.75. One region's year of cheap gas could be another area's fuel crisis.
More on Money Now
DATA PROVIDERS
Copyright © 2014 Microsoft. All rights reserved.
Fundamental company data and historical chart data provided by Morningstar Inc. Real-time index quotes and delayed quotes supplied by Morningstar Inc. Quotes delayed by up to 15 minutes, except where indicated otherwise. Fund summary, fund performance and dividend data provided by Morningstar Inc. Analyst recommendations provided by Zacks Investment Research. StockScouter data provided by Verus Analytics. IPO data provided by Hoover's Inc. Index membership data provided by Morningstar Inc.
MARKET UPDATE
[BRIEFING.COM] The major averages have not wasted any time in rebounding from their opening lows. The S&P 500, which started with an eight-point loss, has already recovered all but two points help from influential sectors like energy (+0.4%), financials (+0.1%), and technology (+0.1%).

On the flip side, consumer discretionary (-0.1%), industrials (-0.3%), and health care (-0.4%) remain weak.

The performance of the six sectors is likely to influence the direction of the ... More
More Market News