What do right-to-work laws actually do?
The controversy over new legislation in Michigan is drawing new attention to these statutes and their impact on unions and businesses.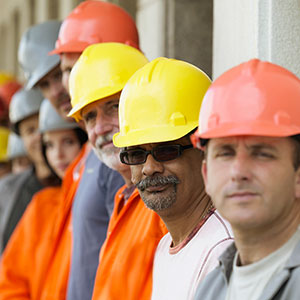 It's been a momentous week in the history of U.S. labor relations. On Tuesday, Michigan lawmakers voted to ban compulsory union fees in a state known for its strong labor unions, especially within the auto industry.
As a result, Michigan will soon become the 24th state with right-to-work laws -- which
BusinessDictionary.c​om defines as "legislation that allows a person to work at any place of employment without being forced to join a union as a condition of employment."
And while no one seems to disagree with that definition, there's widespread debate on both sides of the political spectrum about what right-to-work laws actually do.

Supporters of right-to-work laws say they are fighting against "forced unionism," which can hurt big and small businesses, while at the same time making states more attractive to potential employers.
Right-to-work laws "have a proven track record of encouraging economic growth," says blogger Will Collins on the National Right to Work Legal Defense Foundation website.

But right-to-work statutes, according to the Washington Post's WonkBlog, "are broadly understood to erode the influence and power of organized labor -- if unions have harder time collecting money for the services they offer, they'll have fewer resources to work with."

The Roanoke-based law firm of Frith & Ellerman, which specializes in business litigation, says the term "right-to-work" has led many workers in Virginia to believe those laws protect employees' jobs. But according to the firm's web site, the opposite is true.

"You have very little protection when it comes to your job," they note. "Unless you have an employment contract that defines how you can be fired, under Virginia law, you can be fired for any reason other than your race, age, gender or religious beliefs."
President Obama waded into the controversy on Monday during a visit to Michigan -- saying the right-to-work laws "don't have to do with economics; they have everything to do with politics."
And there certainly is a political divide on the issue -- pitting traditionally pro-union Democrats against Big Business-supporting Republicans on a state and national level.
But the reality is that, as in American politics, there is now a nearly-even split between U.S. states with and without right-to-work laws.

The unions, meanwhile, are looking for ways to fight back."Symbolically, it's a huge setback," United Auto Workers President Bob King told the Wall Street Journal, following the legislative vote in Michigan. "Maybe it will awaken a sleeping giant."
More from Money Now
DATA PROVIDERS
Copyright © 2014 Microsoft. All rights reserved.
Fundamental company data and historical chart data provided by Morningstar Inc. Real-time index quotes and delayed quotes supplied by Morningstar Inc. Quotes delayed by up to 15 minutes, except where indicated otherwise. Fund summary, fund performance and dividend data provided by Morningstar Inc. Analyst recommendations provided by Zacks Investment Research. StockScouter data provided by Verus Analytics. IPO data provided by Hoover's Inc. Index membership data provided by Morningstar Inc.
MARKET UPDATE
[BRIEFING.COM] The stock market finished the Thursday session on a higher note with the S&P 500 climbing 0.5%. The benchmark index registered an early high within the first 90 minutes and inched to a new session best during the final hour of the action.

Equities rallied out of the gate with the financial sector (+1.1%) providing noteworthy support for the second day in a row. The growth-oriented sector extended its September gain to 1.9% versus a more modest uptick of 0.4% for the ... More
More Market News