Should US charge Canadians to cross the border?
Business officials and lawmakers in both countries say a proposed fee would hurt trade, tourism and a sense of a shared culture.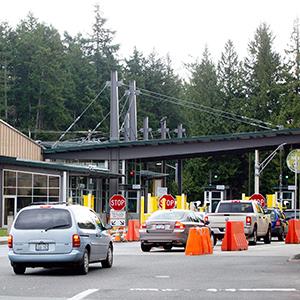 For decades, one of the most notable aspects of U.S.-Canadian relations was the two countries sharing the longest undefended border in the world. And people who lived along that border could come and go virtually at will, or with just a minimum security stop at some of the more well-traveled border crossings.
But life along America's northern border went through some significant changes after 9/11. Security and surveillance have been stepped up, quite dramatically in some areas.
As part of its fiscal 2014 budget request, the U.S. Department of Homeland Security is looking for new ways to fund that more stringent security. One proposal: a fee on Canadians entering the U.S. by foot, car or train.
The U.S. now has more than 25,000 Customs and Border Protection Officers (CBPOs). And in testimony before Congress earlier this month, Homeland Security Secretary Janet Napolitano noted this increased staffing at ports of entry has a positive economic effect.
She quoted the results of a University of Southern California study that estimates for every 1,000 CBPOs added, the U.S. can anticipate a $2 billion increase in gross domestic product. Napolitano said the research also indicates "these additional CBPOs may result in approximately 110,000 more jobs and a potential increase of $6.95 billion in gross domestic product."
But people on both sides of the U.S.-Canadian border, including lawmakers, business representatives and tourism officials, aren't having it.
"While we appreciate the fiscal challenges faced by our friends in the United States, we would prefer the U.S. government focus on ways to reduce obstacles at the border that hinder trade and tourism," Michael MacKenzie, executive director of the Canadian Snowbird Association, told CBC News.
And Julie Rygg with the Greater Grand Forks, N.D., Convention and Visitors Bureau, has written her representatives in Washington that the new fee would discourage cross-border shoppers.
"They're coming to shop, they're looking for good deals," she said. "Prices and exchange rates and all those things affect their travel. So increasing their fee structure, it's just not going to sit well, I don't believe."
Canadians spend more than $21 billion annually in the U.S., and Canadian officials told CBC News they will "vigorously lobby against this proposal."
On the U.S. side of the border, Sen. Charles Schumer, D-N.Y., says he'll oppose the plan. "The Upstate (New York) economy would take a huge hit," he told reporters, "because the Canadians just won't come."
North Dakota's Rygg also worries that a border fee would send the wrong message to her Canadian neighbors. "If people don't feel welcome," she said, "why would they choose to come and spend their money here?"
DATA PROVIDERS
Copyright © 2014 Microsoft. All rights reserved.
Fundamental company data and historical chart data provided by Morningstar Inc. Real-time index quotes and delayed quotes supplied by Morningstar Inc. Quotes delayed by up to 15 minutes, except where indicated otherwise. Fund summary, fund performance and dividend data provided by Morningstar Inc. Analyst recommendations provided by Zacks Investment Research. StockScouter data provided by Verus Analytics. IPO data provided by Hoover's Inc. Index membership data provided by Morningstar Inc.
MARKET UPDATE
[BRIEFING.COM] S&P futures vs fair value: -6.60. Nasdaq futures vs fair value: -14.50. The S&P 500 futures trade seven points below fair value.

Markets across most of Asia ended on a lower note, while Japan's Nikkei was closed for Autumn Equinox.

Economic data was limited:

China's HSBC Manufacturing PMI ticked up to 50.5 from 50.2 (expected 50.0)
Singapore's CPI eased to 0.9% year-over-year (expected 1.2%; previous ... More
More Market News