College grads making $3,200 less than in 2000
Today's new graduates earn 8.5% less than they would have just over a decade ago, making it even harder to pay off their increasing debt loads.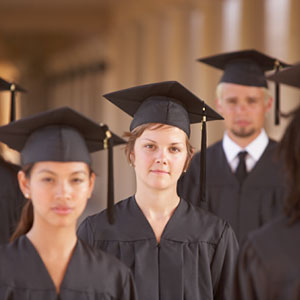 Stories abound about the tough job market awaiting newly-minted college graduates. But even those degree holders lucky enough to find work are earning much less than they used to, a new study shows.

The average hourly wages for college graduates aged 21 to 24 have plunged by 8.5% since 2000, according to the Economic Policy Institute (EPI). In dollar terms, that means getting a degree today will net fresh graduates an annual income that's $3,200 less than what they would have made just over a decade ago, the study says. 
The big hit can be blamed on the two recessions that hindered the U.S. economy since 2000, with wages especially crimped during the Great Recession, according to EPI economist Heidi Shierholz. 
"The wage declines since 2000 stand in sharp contrast to the strong wage growth for these groups from 1995 to 2000," Shierholz noted. "During that period of low unemployment and overall strong wage growth, wages rose 19.1% for young college graduates."
At the same time, college tuition and fees have almost doubled since 2001, according to the Bureau of Labor Statistics. So, basically, if you graduated in the 21st century, tough luck: You likely paid more to earn less.

That's borne out by other recent studies of the challenges facing recent graduates. As my colleague Jason Notte wrote on Tuesday, the country employs 284,000 college grads in minimum wage jobs. That's 70% more than a decade ago. 
In 2012, young college grads earned an average hourly wage of $16.60 an hour, or about $34,500 a year. In 2000, however, the average wage topped $18 per hour, according to the EPI. 
Female college graduates are even in worse shape, with the average young woman with a college degree earning an hourly wage of just $15.64, the study found. Male grads earned an average hourly wage of $17.81. 
Regardless, the drop in pay for new college grads may make it even more challenging for them to establish themselves financially while paying off student loans. 
While recent grads are getting paid less, their debt loads continue to rise. The average U.S. student loan debt topped $27,000 last year, a jump of 58% in just seven years, according to Forbes. 
That's going to be tough to whittle down while flipping burgers at McDonald's (MCD) or brewing lattes at Starbucks (SBUX).
DATA PROVIDERS
Copyright © 2014 Microsoft. All rights reserved.
Fundamental company data and historical chart data provided by Morningstar Inc. Real-time index quotes and delayed quotes supplied by Morningstar Inc. Quotes delayed by up to 15 minutes, except where indicated otherwise. Fund summary, fund performance and dividend data provided by Morningstar Inc. Analyst recommendations provided by Zacks Investment Research. StockScouter data provided by Verus Analytics. IPO data provided by Hoover's Inc. Index membership data provided by Morningstar Inc.
MARKET UPDATE
[BRIEFING.COM] The stock market finished the Tuesday session on the defensive after spending the entire day in a steady retreat. The S&P 500 (-0.6%) posted its third consecutive decline, while the small-cap Russell 2000 (-0.9%) slipped behind the broader market during afternoon action.

Equity indices were pressured from the start following some overnight developments that weighed on sentiment. The market tried to overcome the early weakness, but could not stage a sustained rebound, ... More
More Market News