Gun background checks dive by 10.5%
Demand for weapons waned in January after the Newtown shootings, but it's still higher than in much of 2012.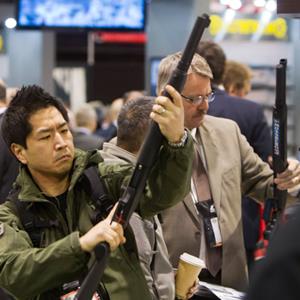 It looks like the nation's run on guns has slowed to a jog.
After background checks for gun purchases peaked at a record 2.78 million in December, the Associated Press found Tuesday that demand across the National Instant Criminal Background Check system decreased 10.5% to 2.48 million in January. That's still the second-highest number of requests ever and higher than the totals in all but one month in 2012.
That said, Americans are still buying up a whole lot of guns in the wake of the Newtown, Conn., elementary school killings and the national gun control debate they prompted. Wal-Mart (WMT) and Bass Pro Shops have limited sales of ammunition at their stores amid increased demand, leaving local law enforcement divisions low on rounds as a result.
Meanwhile, lawmakers have issued proposals to make gun trafficking a federal crime, restrict high-capacity magazines and require background checks for gun shows and private transactions. While Slate has attacked the National Rife Association's opposition to the latter measure, the Daily News reports that universal background checks have overwhelming public support.
Even Republican Rep. Eric Cantor, the House Majority leader, told CNN on Tuesday that he firmly supports extensive background checks similar to those implemented in his home state of Virginia following the 2007 massacre at Virginia Tech that killed 32 people and wounded 17 others. That model linked mental health information to gun databases, which addresses concerns about mental health voiced by gun-rights advocates throughout the recent debate.
Still, Associated Press numbers indicate that gun panic is dissipating a lot more quickly in some states than in others. In Iowa, background checks actually rose 24% in January. Other upticks were reported in Hawaii (12.2%), Massachusetts (10%), Michigan (2.4%), Minnesota (14.9%), New Hampshire (4.4%), New Jersey (10.6%), Pennsylvania (1.8%) and Wisconsin (2.6%). Louisiana, Alabama and Mississippi, meanwhile, all stocked up enough to reduce background checks by roughly a third in each state.
With President Barack Obama pushing for a ban on semi-automatic rifles modeled after military weapons and an updated version of the assault weapons ban that expired in 2004, demand for guns and ammo may remain high for much of 2013. If January is any indication, however, even the most concerned gun owners tend to buy on a budget.
More on moneyNOW
DATA PROVIDERS
Copyright © 2014 Microsoft. All rights reserved.
Fundamental company data and historical chart data provided by Morningstar Inc. Real-time index quotes and delayed quotes supplied by Morningstar Inc. Quotes delayed by up to 15 minutes, except where indicated otherwise. Fund summary, fund performance and dividend data provided by Morningstar Inc. Analyst recommendations provided by Zacks Investment Research. StockScouter data provided by Verus Analytics. IPO data provided by Hoover's Inc. Index membership data provided by Morningstar Inc.
MARKET UPDATE
[BRIEFING.COM] The stock market finished the Tuesday session on the defensive after spending the entire day in a steady retreat. The S&P 500 (-0.6%) posted its third consecutive decline, while the small-cap Russell 2000 (-0.9%) slipped behind the broader market during afternoon action.

Equity indices were pressured from the start following some overnight developments that weighed on sentiment. The market tried to overcome the early weakness, but could not stage a sustained rebound, ... More
More Market News