Cracker Jack gets Jack'D for millennials
Frito-Lay marketers go '90s extreme to get younger customers while messing with the original peanuts-and-popcorn mix.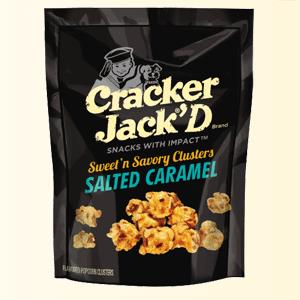 In the late '80s and early '90s, focus groups drove a marketing trend with one word that causes Gen Xers to cringe with gray-haired embarrassment: Extreme.
Branded In The 80s has preserved examples of products from Mead Trapper Keeper school organizers to Levi's Jeans and Donruss baseball cards that got the "extreme" treatment. Gaming site 1UP saved just about every "extreme" '90s video-game ad. Yum Brands' (YUM) Taco Bell served up Extreme Nachos and Burger King (BKW) hired bungee-jumping MTV Sports host Dan Cortese to pitch extreme meat loaf and table service.

The Simpsons put the exclamation point on the whole thing back in 1997 when it devoted an entire episode to focus-grouping a skateboarding, shades-wearing dog named Poochie to boost "The Itchy and Scratchy Show's" ratings.
Roughly 20 years past this idea's freshness date, extreme branding is back on shelves, thanks to PepsiCo (PEP), its snack subsidiary Frito-Lay and a new line of the venerable Cracker Jack peanut-and-popcorn mix called Cracker Jack'D that just launched Tuesday. It's "Jack'D" because hardcore flavors like "Spicy Pizzeria," "Cocoa Java" and "Salted Caramel" -- which is essentially what the original Cracker Jack flavor was in the first place -- are what all the kids are into, according to the decidedly nonkid members of Frito-Lay's marketing department.
Frito-Lay's marketers think millennials aren't flocking to Cracker Jack because it "isn't relevant to them" and they "want more intense flavors and a wider variety of textures."
There may be a kernel of truth to what the snack company pitching sriracha and chicken-and-waffles flavors of Lay's chips is saying, but Frito-Lay was PepsiCo's profit leader in 2012 and saw its take climb 1% last year to $3.6 billion. Those gains weren't boosted by piles of one-off chip flavors, but by old standbys like Doritos, which brought in bags of new cash for Frito-Lay by making its traditional Nacho Cheese and Cool Ranch flavors the backbone of Taco Bell's Doritos Locos tacos.
Much as PepsiCo sucked in consumers with '70s-style throwback bags for its taco-flavored Doritos chips and with its original sugar-based formula and retro cans for Pepsi Throwback, the company is hedging its bets here by keeping original Cracker Jack intact as well.

Focus groups wrought havoc on original-recipe Cracker Jack as well, as anyone who has dug around a pile of caramel-coated popcorn in search of a peanut can tell you. Frito-Lay is updating the original formula and yielding to baby boomers' demands for more peanuts and new prizes inside. Those new prizes have been modernized a bit and now include codes for Google (GOOG) Android apps for "nostalgic" games like baseball and pinball.
Innovation is the key to freshness for any brand. But pandering, blush-worthy missteps like Campbell's millennial-targeted Go! Soups lampooned by Stephen Colbert and Cracker Jack'D caffeine-laced flavors that have already come under fire from The Center For Science In The Public Interest just reek of overreach.

It's a transparent tactic as dated as Hypercolor heat-sensitive T-shirts and Crystal Pepsi, and it's still a tough sell.
DATA PROVIDERS
Copyright © 2014 Microsoft. All rights reserved.
Fundamental company data and historical chart data provided by Morningstar Inc. Real-time index quotes and delayed quotes supplied by Morningstar Inc. Quotes delayed by up to 15 minutes, except where indicated otherwise. Fund summary, fund performance and dividend data provided by Morningstar Inc. Analyst recommendations provided by Zacks Investment Research. StockScouter data provided by Verus Analytics. IPO data provided by Hoover's Inc. Index membership data provided by Morningstar Inc.
MARKET UPDATE
[BRIEFING.COM] The stock market finished an upbeat week on a mixed note. The S&P 500 shed less than a point, ending the week higher by 1.3%, while the Dow Jones Industrial Average (+0.1%) cemented a 1.7% advance for the week. High-beta names underperformed, which weighed on the Nasdaq Composite (-0.3%) and the Russell 2000 (-1.3%).

Equity indices displayed strength in the early going with the S&P 500 tagging the 2,019 level during the opening 30 minutes of the action. However, ... More
More Market News