Facebook unveils a better search tool
The announcement wasn't flashy, and the stock price didn't respond much. But the social network is taking an important step to building a solid infrastructure.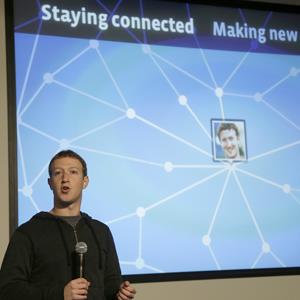 Let's face it: Searching on
Facebook
(
FB
) has been a miserable experience. It's hard to find people, things, interests, trends or pretty much anything else. Instead, going on Facebook has been pretty passive -- you basically sit there and endure a fire hose of status updates.
That problem is at the heart of Facebook's highly anticipated mystery announcement Tuesday. The company didn't announce a new phone or a new gaming platform -- and the stock price barely moved as a result. Instead, it announced something called "Graph Search" to let people take a more active role in the Facebook experience.
The way it works, according to early reports, is this: You can do a Facebook search for people, photos, places and interests. Facebook demonstrated a search for people who live in Palo Alto, Calif., and like the television show "Game of Thrones." You could also search for "college friends from San Francisco."
Facebook clearly wanted to stress that this was not the equivalent of a Web search.
Google
(
GOOG
) has little need to worry, which is perhaps one reason why Google shares saw a small spike as the announcement was being made. Instead, this is only a search within Facebook's own content.
The Graph Search isn't a flashy announcement. But it's an important part of Facebook's infrastructure, a building block upon which the company can start building more services and features -- and sell more advertising.
Graph Search and the resulting map function that users build "can be the basis for building a lot of different kinds of services for connecting," CEO Mark Zuckerberg said at Tuesday's event.
Will it lead to privacy issues? Undoubtedly. But Facebook says it's merely collecting information that users already make public in their profiles. If you said you like "Game of Thrones," and you didn't make that information private, you could likely show up in a Graph Search. It's a good reminder to always stay on top of your Facebook privacy settings.
More on Money Now

Facebook is so useless that some sites require it to get people to respond to their silly articles.  If it wasn't for them forcing it upon the general public, Facebook would be long gone.
Do you notice that Facebook and Obama are not in this site's dictionary???
"Spell check detected 4 mistake(s)"

Well lets see now.... He's had much of that $$ for years now and has likely doubled it thru investments using very savvy financial advisers he had access to. Even if he tries to buy forgiveness returning some of what he was paid, he's ahead millions and all because he CHEATED. Let's all
salute Lance for being a brave little trooper and carry him thru the streets, yes a true Hero.

Doesn't bother me.  Haven't been treated rudely, overcharged for nonsense, or groped for 25 years now.  Have very much enjoyed the drive going anywhere.  And no, I don't want to fly off to some pseudo tropical resort where people are starving and living in poverty a half mile away from tropical vacation section heaven.  And this great new photo shop app lets me put my picture into a billion scenes from around the world so all my friends believe I am a great world traveler. 
Are you sure you want to delete this comment?
DATA PROVIDERS
Copyright © 2014 Microsoft. All rights reserved.
Fundamental company data and historical chart data provided by Morningstar Inc. Real-time index quotes and delayed quotes supplied by Morningstar Inc. Quotes delayed by up to 15 minutes, except where indicated otherwise. Fund summary, fund performance and dividend data provided by Morningstar Inc. Analyst recommendations provided by Zacks Investment Research. StockScouter data provided by Verus Analytics. IPO data provided by Hoover's Inc. Index membership data provided by Morningstar Inc.
MARKET UPDATE
[BRIEFING.COM] Equity indices remain near their best levels of the session with the S&P 500 trading higher by 0.4%.

Although the third week of September is nearing its end, there is still one big unknown that needs to be resolved ahead of the weekend. Specifically, the results of the Scottish independence referendum are expected to trickle in during the course of the night.

Many European banks have announced that their foreign exchange desks will be fully staffed in ... More
More Market News
TOP STOCKS
Meet Alibaba's new billionaires
Despite its size, the IPO will create just two new members of the 10-figure club from its executive ranks. A few others could net hundreds of millions.