PSY to shill nuts at Super Bowl
The 'Gangnam Style' star has made his first US television commercial. But Wonderful Pistachios isn't saying how much it paid to get the singer.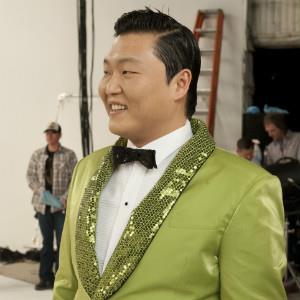 Wonderful Pistachios is shelling out for one of the biggest stars of 2012, tapping the South Korean pop star PSY to star in its first Super Bowl ad. 

The commercial will also mark PSY's first appearance in a U.S. television ad, reports MediaPost's Marketing Daily. 
"It was a substantial investment on our part, but we think it'll be worthwhile at the end of the day," Marc Seguin, the company's vice president of marketing, tells MSN Money Now. He declined to disclose the cost of hiring PSY.
Nevertheless, millions of Americans are already familiar with PSY and his cross-cultural hit. His giddy-up dance moves have been watched more than 1.1 billion times on YouTube, despite lyrics that are mostly in Korean.
The commercial won't come cheap for Wonderful Pistachios: aside from the undisclosed amount it's paying for the pop star, the company will pay about $3.8 million for the 30-second spot during the Super Bowl. This year's game, airing on Feb. 3, is the most expensive Super Bowl yet for advertisers. 
Wonderful Pistachios filmed the commercial on Tuesday in North Hollywood, and will feature PSY sporting a pistachio-green suit and demonstrating a new way to crack open the nuts, according to USA Today. 
"The Super Bowl is way too big for me," PSY told the publication. "I never dreamed of being a singer in America, so I of course never dreamed of being in a Super Bowl ad."
Other than those hints about its content, the pistachio company is keeping the commercial under wraps until the ad airs during the Super Bowl's third quarter. Initially, Wonderful Pistachios planned to run two 15-second ads, but switched to one 30-second spot because the commercial "needed and deserved" the longer running time, marketing executive Marc Seguin told Marketing Daily. 
The pistachio company, which has spent more than $100 million in its "Get Crackin'" campaign over the past four years, is hoping some of PSY's YouTube magic will rub off.
It's asked some YouTube "stars," or people who have created popular videos on the site, to parody the ad, and will also air the spot on cable networks and primetime TV, as well as its own YouTube channel. 
Wonderful Pistachio's overall strategy, Seguin notes, is to break into the top 10 selling products in the salty snacks category, a $12 billion market dominated by PepsiCo's (PEP) Frito-Lay brands. 
More on Money Now
DATA PROVIDERS
Copyright © 2014 Microsoft. All rights reserved.
Fundamental company data and historical chart data provided by Morningstar Inc. Real-time index quotes and delayed quotes supplied by Morningstar Inc. Quotes delayed by up to 15 minutes, except where indicated otherwise. Fund summary, fund performance and dividend data provided by Morningstar Inc. Analyst recommendations provided by Zacks Investment Research. StockScouter data provided by Verus Analytics. IPO data provided by Hoover's Inc. Index membership data provided by Morningstar Inc.
MARKET UPDATE
[BRIEFING.COM] S&P futures vs fair value: +8.00. Nasdaq futures vs fair value: +15.00. Nasdaq at... NYSE Adv/Dec 0/0... Nasdaq Adv/Dec 0/0.
More Market News