Yum aims to fatten up by doubling Taco Bell sales
Can it hit $14 billion by 2021? Some analysts think that's doable.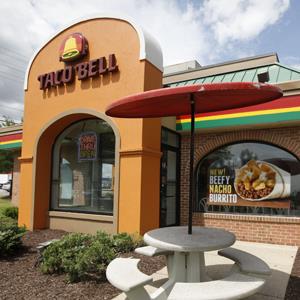 Yum Brands
(
YUM
) has a mighty appetite for growth. It plans to more than double annual domestic sales for its Taco Bell chain to $14 billion by 2021, according to
Nation's Restaurant News
.
The trade publication says it got that target from two analysts who attended the company's recent meeting for investors. Yum executives projected that average sales at Taco Bell locations would increase to $1.8 million by the end of the decade from $1.3 million in the past fiscal year. In addition, the number of Taco Bell stores would surge to 8,000 from 5,700 during the same time.
Doubling the chain's current $7 billion in sales by 2021 could be a tonic for Yum's stock price, which has been lagging over concerns about the company's business problems in China.
Analysts who attended the meeting were bullish on Taco Bell's prospects as the company adds new menu items, such as loaded Grillers, along with breakfast, which it plans to roll out next year after a successful test in the West, the trade publication says.
Key to Taco Bell's success has been the Doritos Locos Tacos, of which the company sells 1 million a day, according to media reports. Earlier this year, the chain even argued that Doritos Locos Tacos, which recently added a Cool Ranch variety,
helped create 15,000
jobs. A man incarcerated in
federal prison
has even sued Yum for allegedly "stealing" the idea for the product from him, a claim the company says is without merit.
How long the strength in Taco Bell, which accounts for about 20% of Yum's annual profit, can overcome the weaknesses in the rest of Yum is hard to say. During
the past quarter
, Taco Bell's U.S. same-store sales, a key metric of performance at locations open at least a year, rose 6%. Pizza Hut and KFC, the company's two other chains, posted declines. 
Yum's China business fared even worse as the company tried to counter public concern about the safety of its foods. Same-store sales there plunged 20% in the most recent quarter.
Shares of Yum have gained about 4%  this year, underperforming rivals such as
McDonald's
(
MCD
) and
Burger King
(
BKW
), which each posted double-digit gains. The average 52-week price target on Yum is $72.33, about 5% higher than where it currently trades. Analysts are betting that customers will keep ordering those Doritos Locos Tacos.
Jonathan Berr owns shares of McDonald's. Follow him on Twitter @jdberr.
Let's be honest - ever since YUM acquired all these chains - the quality of the food has been less than stellar. Maybe YUM should go away and let these chains - KFC, Taco Bell, Pizza Hut go their separate ways and get back to making Great Food again instead of trying to reinvent the wheel. Customers want great food at a reasonable price and being consistent is a key to doing that, but with all these new menu item concoctions it's hard to retain your loyal customer base because you mess with the formula too much. Pizza hut is a good example of this. These jokers have changed the ingredients of their food so much there is a stark difference from the pizza hut of the 90's to the pizza hut of today. Why change something that wasn't broken in the first place. Now YUM want's to create all these new pizza concoctions and still say We're Makin' It Great! How!? By whitewashing our taste buds hoping we will forget what made Pizza Hut great to begin with. Hmmm, I don't think so.


I stopped at a Taco Bell a couple of days ago for the first time in years. I bought a 7 layer burrito, and I couldn't believe how bland it was. All these places are so focused on the bottom line, that they've forgotten that they have to please the customer. It's not like dining out is a necessity. 

These chains are listening to too many people screaming for lower prices (i.e. Dollar Menu) instead of worrying about the quality of their product.  
I would rather pay three dollars for a great burrito than one dollar for some bland, no flavor thing.  People want a dollar item and them complain it has no taste.  What do you expect for a dollar?  This is why Chipotle can charge eight dollars for a burrito and their sales are skyrocketing.  There are millions of customers willing and wanting to pay more for a better meal.
Are you sure you want to delete this comment?
DATA PROVIDERS
Copyright © 2014 Microsoft. All rights reserved.
Fundamental company data and historical chart data provided by Morningstar Inc. Real-time index quotes and delayed quotes supplied by Morningstar Inc. Quotes delayed by up to 15 minutes, except where indicated otherwise. Fund summary, fund performance and dividend data provided by Morningstar Inc. Analyst recommendations provided by Zacks Investment Research. StockScouter data provided by Verus Analytics. IPO data provided by Hoover's Inc. Index membership data provided by Morningstar Inc.
MARKET UPDATE
[BRIEFING.COM] After spending the first two hours of the trading day in a steady slide, the S&P 500 has maintained a four-point range over the past 60 minutes.

The materials sector (+0.1%) has been able to stay out of the red, but its slim gain is now in jeopardy following an orderly decline from the opening high. Steelmakers have factored into the retreat as evidenced by a 2.9% decline in the Market Vectors Steel ETF (SLX 47.23, -1.40). Miners haven't done much to turn the ... More
More Market News