Disney's 'Oz' isn't entrancing the critics
That doesn't mean moviegoers will stay in Kansas. It does make the company's $225 million bet a bit more dicey, though.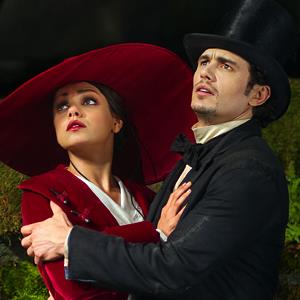 Walt Disney
(
DIS
) has bet about $225 million that moviegoers will be eager to see "Oz the Great and Powerful," its much-hyped prequel to "The Wizard of Oz." Unfortunately, it has gotten scathing reviews from major film critics ahead of its opening weekend.

The Washington Post's
Anne Hornaday notes the film "constantly falls short of the inflated expectations it has set up for itself."
Joe Morgenstern
of The Wall Street Journal faults Disney for "betting vast sums of money on a film with a questionable concept, a prequel that not only invites but demands comparison to a peerless treasure of American culture." Writing in
The New York Times
, Manhola Dargis describes the film as an  "dispiriting, infuriating jumble of big money, small ideas and ugly visuals."
Hollywood's newest strategy is to put a new twist on old stories, but they've had a tough time pulling it off.
Time Warner
's
(
TWX
) "Jack the Giant Slayer," a dark retelling of "Jack and the Beanstalk,"
bombed at the box office
as did 2012's "Rise of the Guardians," which featured a menacing Santa Claus and Easter Bunny.
Wall Street isn't pulling the curtain on "Oz" yet. Lazard Capital analyst Barton Crockett expects the film to gross about $400 million, fueled by a strong performance overseas, according to
Bloomberg
. Perhaps the film may be immune from the pointed barbs of professional critics. The
Journal
notes that surveys of moviegoers indicate the film may gross about $80 million in its opening weekend and that interest is strong overseas.
"Disney is marketing 'Oz' heavily, running interviews with the stars on the otherwise ad-free Disney Channel and sneak previews at its California Adventure theme park," Bloomberg says. "The company closed Hollywood Boulevard for the premiere, erecting a big balloon evoking memories of the 1939 film."

Under CEO Robert Iger, Disney has tried to create "tent pole" franchises, brands that generate sales through multiple films and consumer product sales. As part of that strategy, Disney last year acquired LucasFilm from "Star Wars" creator George Lucas for $4 billion and announced plans to produce more films in that beloved franchise. It acquired Marvel Entertainment for $4 billion in 2009 and acquired the Muppets from Jim Henson Co. in 2004 for an undisclosed price.
--Jonathan Berr does not own shares of the listed shares. Follow him on Twitter @jdberr.

   here's a better story.......just cause i hate union's(like them but they just not required in this day and age and thats due to the LEFTWING SOCIALIST who run the union's; get rid of the SOCIALISTIC WAYS and prosper)
Unions win major fight with Walmart
but lose 10,000+ job's building the wal-mart stores OH OH OH and don't forget about the 20+ thousand job's associated with wal-mart moving in........OH OH OH....IGNORANCE ISN'T BLISS!!!

I hope this film bombs so badly, that it has to be pulled from the theaters. I know Disney is Disney, but this was not only stupid, but took one hell of a lot of nerve to try to re-make, into YOUR version, one of the greatest films of all time. What is it that you thought you would do better? There are sone things that you just don't mess with, regardless of how much money you are trying to make by associating yourself with such a tremendous fame and reputation, such as what the original Oz has. By the same token, it was extremely stupid for those idiots to try to remake Snow White, when Disney HAD made it one of the greatest films of all time. They were doing the same thing Disney did with Oz. Can't we just shut down the film industry? The democrats in Washington pour MILLIONS of dollars a year into the film industry. There is plenty that could be done with the money.

Are you sure you want to delete this comment?
MARKET UPDATE
[BRIEFING.COM] The S&P 500 settled lower by 0.8% after early strength turned into afternoon weakness.

Today's headline event came in the form of Ben Bernanke's testimony before the Joint Economic Committee. During his remarks, Chairman Bernanke said premature tightening of monetary policy could stall the pace of recovery. This followed weeks of conflicting remarks from FOMC members, which sparked speculation regarding possible changes to the Fed's policy course.

However, ... More
More Market News
TOP STOCKS
Bernanke's losing battle?
In this installment of Investor Beat: The Fed chief tells Congress that it's too soon to end the stimulus program.