Sushi mania: 489-pound tuna sells for $1.76 million
The dish has become a global favorite. But there are concerns that its popularity is further endangering the world's fish supply.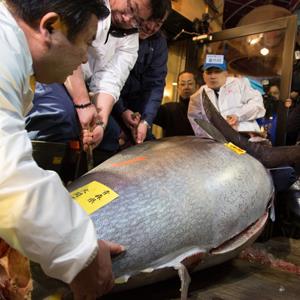 You've heard of going whole hog. How about getting the total tuna?
Tokyo restaurant chain Kiyomura K.K. paid a record $1.76 million at an auction over the weekend for just one fish: a 489-pound bluefin tuna. That comes to about $3,600 per pound.
The Los Angeles Times says the company got into a bidding war in order to have the honor of buying the first fish of the year at the city's renowned Tsukiji seafood market. "It was a little bit expensive," Kiyoshi Kimura, the company's president, told The Japan Times. "But I hope we can encourage Japan by providing good tuna."
The bluefin will be served at the sushi chain's normal prices of $1.47 to $4.56 per piece. But "honestly, the price should be more than ¥30,000 ($343.56) apiece," Kimura said.

The publicity stunt has also drawn attention to two linked issues -- the dramatically diminished bluefin tuna population, which has been overhunted globally -- and the growing international popularity of sushi.

In just four decades, sushi -- basically raw fish wrapped in vinegar-seasoned rice and seaweed -- has gone from being a delicacy relatively unknown outside of Japan to a global cuisine. In the U.S. alone, sushi consumption between 2000 and 2005 reportedly increased by 40%.
Bloomberg even has a Sushinomics Cost-of-Living Index, which looks at the price of sushi at restaurants in 25 U.S. cities.
And it's a multi-billion-dollar​ food industry in the U.S. that has branched out far from its traditional, coastal markets. Sushi can be found at Texas high school football games, restaurants in Salt Lake City and Wichita -- and in the deli departments of supermarkets from Indianapolis to Arizona.

Sushi's story in the U.S. says volumes about food trends, but also about the growing globalization of our food supplies.
According to the National Oceanic and Atmospheric Administration, the U.S. consumed 4.7 billion pounds of seafood in 2011 -- about 15 pounds of fish and shellfish per American on average -- which puts the U.S. second only to China in seafood consumption.

NOAA says about 91% of seafood eaten in the U.S. was imported in 2011 -- but that figure is somewhat misleading, as "a portion of this imported seafood is caught by American fishermen, exported overseas for processing and then re-imported to the U.S."
Despite the wide spectrum of seafood available when it comes to sushi -- including fish eggs, clam and octopus -- most Americans want their seafood cooked. According to the Monterey Bay Aquarium's State of Seafood report, we prefer shrimp, canned tuna and salmon as well as the pollock and tilapia found in processed fish sticks and cutlets at the supermarket.
But sushi's success has had an impact on other fish commonly used in the cuisine, such as red snapper, yellowtail and salmon.
That growing global demand for sushi-quality fish and other seafood has prompted questions about sustainability of wild fish populations, the future of fish farming or "aquaculture" -- and the health threats consumers face from pollutants in both wild and farmed seafood.

But the Monterey Bay Aquarium report says American consumers are more aware than ever of the environmental and sustainability issues associated with seafood. And many producers, processors and retailers in the seafood industry are removing endangered and unsustainable seafood items from their shelves while setting up policies and guidelines for the seafood they sell.
So in the future, the sushi you eat may contain different ingredients -- but it will probably be more available than ever.
More on Money Now

DATA PROVIDERS
Copyright © 2014 Microsoft. All rights reserved.
Fundamental company data and historical chart data provided by Morningstar Inc. Real-time index quotes and delayed quotes supplied by Morningstar Inc. Quotes delayed by up to 15 minutes, except where indicated otherwise. Fund summary, fund performance and dividend data provided by Morningstar Inc. Analyst recommendations provided by Zacks Investment Research. StockScouter data provided by Verus Analytics. IPO data provided by Hoover's Inc. Index membership data provided by Morningstar Inc.
MARKET UPDATE
[BRIEFING.COM] The stock market began the new week on a cautious note. The S&P 500 lost 0.3%, but managed to erase more than half of its opening decline. Thanks to the rebound, the benchmark index reclaimed its 50-day moving average (1976.78) after slipping below that level in the morning.

Equities slumped at the open amid a couple global developments that dampened the overall risk appetite. Continued student protests in Hong Kong and a potential response from China weighed on the ... More
More Market News