Is the new Xbox Steve Jobs' dream device?
The gaming console appears to easily manage a user's media and entertainment needs. Is it something Apple's co-founder would have liked?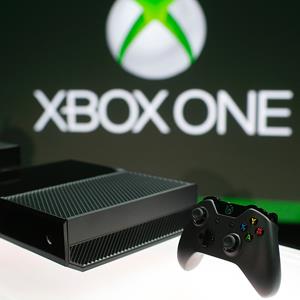 The Xbox One is already many things to many people -- just check
its Twitter stream
to see the gamut of opinion -- but Slate Magazine
throws out something
especially provocative: Is it Steve Jobs' dream device?
The idea goes back to something Jobs, the visionary chief executive of
Apple
(
AAPL
), said before he died in 2011. According to his biographer, Walter Isaacson, Jobs mentioned a television set that could serve as the hub for all the consoles, devices and movie players in the home and easily access content online.
That's a dream that has captivated the tech industry for years, but what Jobs said was quite intriguing: "It will have the simplest user interface you could imagine," he said. "I finally cracked it."
What exactly did Jobs crack? And maybe, just maybe, did
Microsoft
(
MSFT
) crack it a couple of years later with the Xbox One? (Microsoft owns and publishes moneyNOW, an MSN Money site.)
That's the claim made by Farhad Manjoo, Slate's technology writer, after seeing the new gaming console Microsoft unveiled Tuesday. "Today, I saw something very close to Steve Jobs' dream device," Manjoo wrote.
OK, before heads start exploding over in Cupertino, let's give Manjoo a minute to explain. Yes, the Xbox One plays video games, Blu-ray discs and television shows and movies streamed online. And it does all this seamlessly, he adds, so you don't have to keep jamming your television's input button to get what you want.
Finally, Manjoo adds, it's very easy to operate with just your voice -- just tell the Xbox what you want to see and it should serve it up.
"Microsoft has done what Apple has long been rumored to do," Manjoo says. "It has created a near-perfect living room machine, one that has the potential to finally make it simple for you to watch or play anything you want, from anywhere, very quickly."
But even Manjoo admits there are plenty of unanswered questions. And gamers were quick to jump on the Xbox One's flaws -- most notably that it won't play Xbox 360 games at all.
And there are concerns that you won't be able to play used games without jumping through some hoops. A game disc installs directly to the console's hard drive. But in order to play that disc with a second account, the account owner may have to pay a fee.
According to
Wired, Microsoft has a plan for used games but hasn't shared the details yet.
So by comparing this to Jobs' "dream" device, Manjoo is saying that it's about as close as we're going to get to some console that is able to glide through content restrictions, licensing issues and technological hurdles while at the same time seamlessly and instantly giving us the television shows, movies and games we want.
Will it be perfect? Probably not. But if Microsoft can get a few million gamers to grudgingly admit that it's good enough, well, that's an accomplishment that has been decades in the making.

I was interested at the start of the reveal event , but i was rather unimpressed by the lack of emphasis on games and the larger emphasis on TV.  I was half expecting someone to dig rapper Xzbit out of mothballs to shout:

"Yo Dawg, we heard you like TV, so we built you an Xbox that allows you to watch TV...ON YOUR TV"

The news about used game support didn't help, that sort of business model was partly what killed the viability of DivX versus DVD's in the late 90s...I mean, I understand that the developers have to make some money as well, no one is denying that, but if i want to TRADE games with friends, there is no longer any point if we're each going to have to pay for the bloody thing AGAIN
Are you sure you want to delete this comment?
DATA PROVIDERS
Copyright © 2014 Microsoft. All rights reserved.
Fundamental company data and historical chart data provided by Morningstar Inc. Real-time index quotes and delayed quotes supplied by Morningstar Inc. Quotes delayed by up to 15 minutes, except where indicated otherwise. Fund summary, fund performance and dividend data provided by Morningstar Inc. Analyst recommendations provided by Zacks Investment Research. StockScouter data provided by Verus Analytics. IPO data provided by Hoover's Inc. Index membership data provided by Morningstar Inc.
MARKET UPDATE
[BRIEFING.COM] The stock market finished the Tuesday session on the defensive after spending the entire day in a steady retreat. The S&P 500 (-0.6%) posted its third consecutive decline, while the small-cap Russell 2000 (-0.9%) slipped behind the broader market during afternoon action.

Equity indices were pressured from the start following some overnight developments that weighed on sentiment. The market tried to overcome the early weakness, but could not stage a sustained rebound, ... More
More Market News