Growing pains tax craft beer
A brewing battle over excise taxes divides the beer industry and shows just how much some small brewers have grown.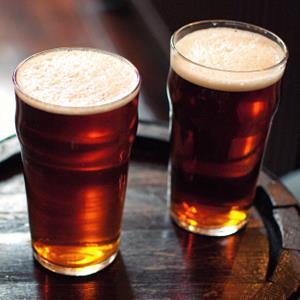 When
Boston Beer Company
(
SAM
) founder Jim Koch started brewing Samuel Adams in his kitchen in the late 1980s, there weren't "craft brewers" and "macro brewers," just big brewers and small brewers. 
Today, Samuel Adams still sits on the craft side of the wall along with other craft beer pioneers like Chico, Calif.-based Sierra Nevada and Fort Collins, Colo.-based New Belgium Brewing, but it's taken a little tweaking to keep it there. As craft beer's old-timers age and expand, that "craft" label becomes an increasingly snug fit.
 
That may seem like a cosmetic problem at best, but when the federal government determines taxes on brewers by their output, suddenly the definitions of "small" and "craft" carry a whole lot more weight. As the Craft Brewers Conference began Tuesday in Washington, D.C., that tax question created a rift in the beer industry that could signal last call for the "craft" title.

At issue, according to political news site The Hill, are two pieces of similar beer-specific legislation making their way toward Congress right now. The Brewer's Employment and Excise Relief (BEER) Act, which is promoted by Washington-based beer industry group The Beer Institute, is expected to be introduced later this year and would reduce excise taxes on beer produced by brewers large and small. Past versions of the bill recommended cutting the tax from $18 per barrel to $9 for large brewers while also cutting the tax for small brewers from $7 per barrel to $3.50.
The competing Small Brewer Reinvestment and Expanding Workforce, or Small BREW Act, promoted by craft beer industry group The Brewers Association would cut the federal excise tax on beer from $7 a barrel to $3.50, which is placed on a small brewer's first 60,000 barrels produced per year. After that initial 60,000 barrels, small brewers must pay $18 per barrel, which would be lowered to $16 under the bill. More importantly, it would expand the tax code definition for a "small brewer" from one that produces 2 million barrels or less to one that produces 6 million or less.
 
The Beer Institute, which features big brewers like Anheuser-Busch InBev (BUD) and MolsonCoors (TAP) as well as smaller ones like Boston Beer and Sierra Nevada, balked at that proposal and vowed to "actively oppose" it, calling it "a giveaway to a handful of brewers that each are worth more than a billion dollars." The Brewers Association vows to push on.
 
Average beer lovers, meanwhile, can't taste the difference and don't usually have the stats on hand to determine who's "small" or "craft" and who isn't. Based on the latest numbers from Beer Marketer's Insights, there are exactly three brewers sitting on that threshold between 2 million and 5 million barrels: Boston Beer (2.7 million in 2012), North American Breweries (2.725 million of Magic Hat, Pyramid, Portland Brewing and Genesee) and D.G. Yuengling & Son (2.79 million).
The Brewer's Association discounts the latter two because of NAB's fluctuating ownership and the use of adjunct ingredients like corn in Genessee and the maize found in Yuengling's traditional recipe. The BA did, however, expand its definition of a "craft" brewer in 2011 to "any independent brewery that produces up to 6 million barrels of traditional beer" just to accommodate Boston Beer.
 
It's going to continue bumping into this problem, as Lyons, Colo.-based Oskar Blues has expanded into an East Coast brewery in Asheville, N.C., and will increase production to nearly 1 million barrels. Similar Asheville expansion plans by Sierra Nevada and New Belgium will also push those brewers over the 1-million-barrel mark, while plans by California-based breweries Lagunitas and Green Flash to open brewing facilities in Chicago and Virginia Beach, respectively, should boost their growth as well.
None of those breweries, however, match the three brewing facilities owned by Boston Beer -- a research facility in Boston and two larger operations in Pennsylvania and Ohio -- or that funny little SAM stock ticker that follows its name. Boston Beer's status as a publicly traded company, its production of malt beverages like Twisted Tea and its enormous growth have always presented challenges to its "craft" status. But the rift its growth is creating between two beer industry organizations -- both of which include the company on their membership rolls -- puts the brewer in an even tougher position.
What makes this even dicier is the larger beer companies' recognition of craft beer's growth and their adaption to it. MolsonCoors' fastest-growing brand in the U.S. isn't Coors, Coors Light or Killian's Red, but its Blue Moon wheat beer, which has served as a gateway to craft beer for drinkers since the 1990s. Anheuser-Busch InBev, meanwhile, has not only rolled out premium versions of its Bud and Bud Light brands, but outright purchased Chicago-based craft brewer Goose Island last year. Though that company's barrel-aged Bourbon County Stout was long a beer geek favorite, the purchase has produced no small amount of hand wringing among craft beer lovers wondering if Goose Island will still retain its flavor under new ownership. 
If you want to know how all of this will play out, a look at Goose Island's former owners may offer an answer. Goose Island was formerly part of the Craft Brew Alliance (BREW), a publicly traded collective of breweries formed in 2008 through the merger of Woodinville, Wash.-based Redhook and Portland, Ore.-based Widmer Brothers. The collective sold Anheuser-Busch a 32.2% stake in the company in exchange for the use of the big brewer's sprawling distribution system. As a result, A-B doesn't get a whole lot of the Alliance's profits while the Alliance gets a coast-to-coast network to carry its beers from facilities in Woodinville, Portland and Portsmouth, N.H.
This deal also meant that Redhook and Widmer Brothers were deemed "not craft" by the Brewers Association for partnering with A-B. Never mind that Redhook was founded in Seattle in 1981 before most BA members existed or that Rob and Kurt Widmer, who started their Portland operation in 1985, are still active in the beer industry and have been at it longer than Boston Beer's Koch or New Belgium head Kim Jordan. They're not craft, but with fewer than 700,000 barrels of production (fewer than Boston Beer, Sierra Nevada, and New Belgium), they're not exactly macro either. 
They're just beer, and that may have to be enough for growing and increasingly corporatized craft brewers.
DATA PROVIDERS
Copyright © 2014 Microsoft. All rights reserved.
Fundamental company data and historical chart data provided by Morningstar Inc. Real-time index quotes and delayed quotes supplied by Morningstar Inc. Quotes delayed by up to 15 minutes, except where indicated otherwise. Fund summary, fund performance and dividend data provided by Morningstar Inc. Analyst recommendations provided by Zacks Investment Research. StockScouter data provided by Verus Analytics. IPO data provided by Hoover's Inc. Index membership data provided by Morningstar Inc.
MARKET UPDATE
[BRIEFING.COM] The stock market finished an upbeat week on a mixed note. The S&P 500 shed less than a point, ending the week higher by 1.3%, while the Dow Jones Industrial Average (+0.1%) cemented a 1.7% advance for the week. High-beta names underperformed, which weighed on the Nasdaq Composite (-0.3%) and the Russell 2000 (-1.3%).

Equity indices displayed strength in the early going with the S&P 500 tagging the 2,019 level during the opening 30 minutes of the action. However, ... More
More Market News