Coors challenges Budweiser for Super Bowl viewers
Regional commercials for MillerCoors' new apple malt beverage are bypassing Anheuser-Busch's exclusivity deal for football's big game.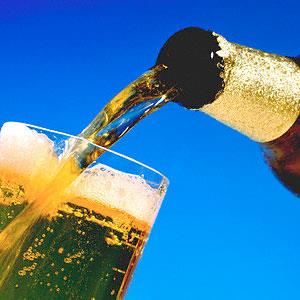 Football doesn't have its playoff matchups yet, but Coors is already claiming a Super Bowl win over Budweiser.
The folks at MolsonCoors' (TAP) U.S. distribution branch, MillerCoors, lost their stranglehold on Super Bowl advertising a few years ago when Anheuser-Busch InBev (BUD) paid more than $1 billion to become the National Football League's official beer sponsor. Though no other brewery can buy national ad time that's closing in on $3 million for 30 seconds, MillerCoors slipped through a loophole and bought 15 seconds of regional commercials for its Redd's Apple Ale malt beverage that's launching in February.
According to AdAge, MillerCoors bought up ad time in the Great Lakes and Southeast regions to tout its answer to Mike's Hard Lemonade, Boston Beer Company's (SAM) Twisted Tea brand and the growing hard cider market. While the MillerCoors spot doesn't target its rivals at A-B, the mere fact that it's airing is a big score in a year that saw Coors Light dethrone Budweiser's "King Of Beers" as the nation's No. 2 beer brand.
Anheuser-Busch InBev still controls roughly 47% of the U.S. beer market, according to Beer Marketers Insights. MillerCoors comes in a distant second with 28.4% of the market, with no other single brewer holding a stake greater than 6%. Their grip on the market is slipping, however, as each saw production decrease by 3% between 2010 and 2011. Budweiser, in particular, slid from 9.3% of the market in 2009 to just 8.4% today as Coors Light jumped to and 8.7% share -- trailing only Bud Light's massive 19% stake. Meanwhile, craft beer brewers have carved out a 6% share of the marketplace, according to the Brewers Association, while the Crown Imports group that distributes Modelo's Corona throughout the United States has seen its share of the market increase 5% over the same span.
Anheuser-Busch has long considered the Super Bowl strictly Budweiser territory and has poured $239 million into Super Bowl ads in the last decade, according to Kantar Media. It has outspent No. 2 PepsiCo (PEP) by nearly $70 million over that stretch and has easily outpaced the combined $221 million spent by No. 3 General Motors (GM) ($82.8 million), Disney (DIS) ($73.9 million) and Coca-Cola (KO) ($66.8 million).
Even when it wasn't the NFL's beer sponsor, it poured out enough cash to make Super Bowl watchers think it was. Back in 2006, Anheuser-Busch made a deal with NBC that gave it alcohol category exclusivity for Super Bowl XLIII in 2009 and Super Bowl XLVI this year. A-B has put such exclusivity agreements in place with various networks since 1989 and tightened that grip for 23 year. Its perks expanded from commercials to a Bud Light Hotel it sets up in the host city each year and hosting duties for various Super Bowl parties.
A-B has made it extremely clear that it has no intention of losing more ground to MolsonCoors or anyone else and will just keep throwing money at its problems until they go away. Last year, it bought up Chicago-based craft brewery Goose Island after distributing the brand for years through its stake in the Craft Brew Alliance (BREW) network of breweries. It's already made some noise about buying out Corona brewer Modelo and may be one of the potential suitors for North American Breweries, which brews the Magic Hat, Pyramid and MacTarnahan's brands and recently hinted to Reuters that it may be put up for sale by parent company KPS Capital Partners.
While MillerCoors isn't divulging what it is spending on regional Super Bowl ads, that nearly $67 million spent by Coca-Cola should give it an idea of just how hard it can be to dislodge a competitor from the big game. PepsiCo has not only been the NFL's official soft drink sponsor since 2002, but its Frito-Lay division and Doritos brand specifically have clung to the league's salted snack sponsorship since 2000. Domino's (DPZ) and Yum Brands' (YUM) Pizza Hut have each spent millions trying to promote their pies over NFL Official Pizza Sponsor Papa John's (PZZA) product in recent years, but have largely restricted their efforts to pre-game and online ads.
MillerCoors is pitching a niche product in spaces small enough to escape A-B's notice. If its regional ads for Redd's Apple Ale are successful, though, expect more opponents to exploit that weakness in Anheuser-Busch's defense and direct fans' attention to other, closer breweries.
More from Money Now
DATA PROVIDERS
Copyright © 2014 Microsoft. All rights reserved.
Fundamental company data and historical chart data provided by Morningstar Inc. Real-time index quotes and delayed quotes supplied by Morningstar Inc. Quotes delayed by up to 15 minutes, except where indicated otherwise. Fund summary, fund performance and dividend data provided by Morningstar Inc. Analyst recommendations provided by Zacks Investment Research. StockScouter data provided by Verus Analytics. IPO data provided by Hoover's Inc. Index membership data provided by Morningstar Inc.
MARKET UPDATE
[BRIEFING.COM] The stock market finished an upbeat week on a mixed note. The S&P 500 shed less than a point, ending the week higher by 1.3%, while the Dow Jones Industrial Average (+0.1%) cemented a 1.7% advance for the week. High-beta names underperformed, which weighed on the Nasdaq Composite (-0.3%) and the Russell 2000 (-1.3%).

Equity indices displayed strength in the early going with the S&P 500 tagging the 2,019 level during the opening 30 minutes of the action. However, ... More
More Market News