A restaurant price war nobody's winning
Red Lobster and Olive Garden lose profits as competitors' 2-for-$20 meal deals present an industrywide problem.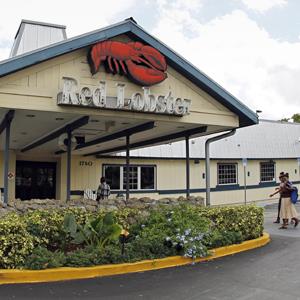 Red Lobster and Olive Garden parent company Darden Restaurants (DRI) just watched the casual dining price wars eat more than a third of its profits.
Earlier this month, Darden issued a warning about second-quarter profits after acknowledging that Superstorm Sandy, comments the company made about Obamacare and, most importantly, bad meal promotions were sinking sales.

On Thursday, Darden revealed that sales at its U.S. restaurants open at least a year fell 2.7% for its three biggest chains last quarter. That included a 3.2% drop at Olive Garden, a 2.7% decline at Red Lobster and a 0.8% slump at LongHorn Steakhouse.
Overall net income fell 37% last quarter as a result and served as a warning to other restaurants lowering the bar on price. Olive Garden misjudged consumer appetites by offering a 2-for-$25 three-course meal deal last quarter when competitors including DineEquity's (DINE) Applebee's, Brinker Restaurants' (EAT) Chili's and Bloomin' Brands' (BLMN) Outback Steakhouse offered 2-for-$20 meal deals or $10 entrees.
All of those restaurants could end up paying for Darden's mistake, however, as industry analyst Howard Penney tweeted Thursday:
Memo to Casual Dining investors: $DRI declared a price war - "nobody wins in a nuclear war"

Darden went through a whole lot of effort to lose that much money. It just overhauled menus and restaurants at Red Lobster and Olive Garden and attempted to change the low-cost culture of each establishment. Red Lobster, known for its all-you-can-eat seafood specials, increased chicken and beef items from 8% of the menu to nearly a quarter of its offerings. Olive Garden, meanwhile, shifted the focus away from unlimited breadsticks and pasta to "lighter" fare with fewer than 600 calories.
While Darden's relatively robust performance during the recession gave it room to make such moves, its competitors' recovery made their price drops possible. Even with recent gains, the casual dining industry still isn't study enough to keep the bar that low. According to the Census Bureau, spending at food service and drinking establishments is up 7.2% so far this year. At casual dining establishment, however, spending fell 2% last quarter and has dropped between 1% and 4% each quarter since spring of 2010.
When such restaurants aren't offering $10 meal promotions, the paying public doesn't find them all that cheap. The cost of dining out rose 2.7% over the last year, according to the Consumer Price Index, which puts it ahead of the 2.2% overall rate of inflation. Under those circumstances, a customer paying $10 for a promotional deal will pay 20% to 40% more when the price rises to $12 or $14 a few months from now. Even if those prices remain in place, they don't guarantee customers will stay.
"What happens is that after [value promotions] have been in place for a while, consumers no longer perceive them to be a deal," said Bonnie Riggs, restaurant-industry analyst at NPD Group, told AdAge when Darden issued its warning earlier this month.
While Darden's competitors haven't suffered the same losses, their gains from low-price promotions haven't been great. Sales at Brinker are up 2.7%. DineEquity has seen Applebee's same-restaurant sales rise 1.3% this year, only to be balanced by a 1.3% decline at its breakfast-focused chain IHOP. It's been a somewhat better story for Bloomin' Brands, with sales at Outback, Carraba's Italian, Bonefish Grill and Flemings Steakhouse 3.6% last quarter.
Casual dining's biggest success story, however, had nothing to do with promotions or tweaks to a chain's family friendliness. Buffalo Wild Wings (BWLD) rode a combination of football, beer, big TVs, and chicken smothered in spicy sauce to an average 6% sales increase last quarter.
Darden says it will revise its promotions calendar to get profits flowing again, but even the menu may not be off limits as the company backtracks on some of its decisions. Earlier this month, Darden said it won't bump any workers from full-time to part-time to deal with rising costs as Obamacare is implemented. Starting in 2014, large companies must offer health insurance to full-time workers, and as a result Darden was testing the use of more part-time employees. The company was criticized for the move, and said that employee and customer satisfaction declined at restaurants where the tests took place, the Associated Press reported.
That's fine, but Darden and its competitors need to make customers see the value in the service and product they're offering. Without that, casual dining becomes a collage of different strip-mall logos for the same faceless fare.
DATA PROVIDERS
Copyright © 2014 Microsoft. All rights reserved.
Fundamental company data and historical chart data provided by Morningstar Inc. Real-time index quotes and delayed quotes supplied by Morningstar Inc. Quotes delayed by up to 15 minutes, except where indicated otherwise. Fund summary, fund performance and dividend data provided by Morningstar Inc. Analyst recommendations provided by Zacks Investment Research. StockScouter data provided by Verus Analytics. IPO data provided by Hoover's Inc. Index membership data provided by Morningstar Inc.
MARKET UPDATE
[BRIEFING.COM] S&P futures vs fair value: -5.80. Nasdaq futures vs fair value: -12.80. U.S. equity futures trade modestly lower amid cautious action overseas. The S&P 500 futures hover six points below fair value after climbing off their overnight lows reached during the Asian session. The night has been very quiet on the economic front with several central bank and government officials playing down expectations of additional stimulus. On that note, China's Finance Minister Lou Jiwei ... More
More Market News