You want tofu with that burrito?
Chipotle believes it can succeed with the Asian soybean substitute for meat and is offering it at selected restaurants.
Are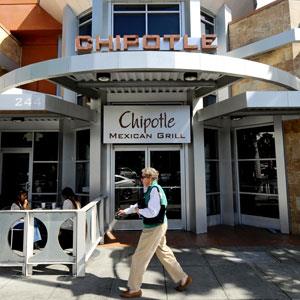 American consumers ready for some tofu in their fast-food diet? That's what Denver-based Chipotle Mexican Grill (CMG) is betting as it incorporates the vegetarian soybean curd into its menu at nearly 100 restaurants in Northern California.
Tofu, the low-fat, high-protein curd that's often used as a meat substitute, is a traditional part of many Asian dishes and can be found on the menus at Asian-based fast-food establishments such as Panda Express and Genghis Grill. But Chipotle is hoping its Sofritas, shredded tofu braised with chilis and spices, will attract a broader base of diners.
"We are changing the way people think about and eat fast food," Chipotle founder, chairman and co-CEO Steve Ells said back in January when the company was testing out its new product. "Sofritas is a very different menu item not just for Chipotle, but for any fast-food or fast-causal restaurant. It was really conceived with vegetarians and vegans in mind, but it's so delicious that we believe it will have a broad appeal on taste alone."
And Chipotle customers at the designated restaurants will be able to choose Sofritas for their burritos, tacos, salads and other entrees -- just like they would with chicken or beef.
According to the Nation's Restaurant News, this is Chipotle's second attempt at introducing a vegetable protein into its menu. The first try, a grain-based protein called Garden Blend, was later discontinued.
And considering that the U.S. is one of the world's largest producers of soybeans, maybe it's time more Americans stop turning up their noses at tofu. While Chipotle says it will use U.S.-produced tofu for its Sofritas, many American food companies end up purchasing tofu made from U.S. soybeans but produced in Asia.
"They can ship the soybeans to Japan, make the tofu, ship it back to the United States and still sell it cheaper than I can," Bill Quick at West Virginia-based Phoenix Organics recently told the Charleston Daily Mail about his suppliers. "They're all automated."
Hodo Soy of Oakland, Calif., will be making Chipotle's Sofritas. And Hodo founder, director and co-CEO Minh Tsai is zealous about his product -- which many foodies think could make the shift, like yogurt did, from exotic food to a mainstream part of the American diet.
"I think it's great because people still don't know what to do with tofu," Tsai told Hyphen Magazine. "The tofu industry is not dissimilar to the latest artisan rage over chocolate, olive oil and bread. There's room for both the big guys, who get the product and information out to a lot of people, and the little guys, who encourage the big guys to make better products."

DATA PROVIDERS
Copyright © 2014 Microsoft. All rights reserved.
Fundamental company data and historical chart data provided by Morningstar Inc. Real-time index quotes and delayed quotes supplied by Morningstar Inc. Quotes delayed by up to 15 minutes, except where indicated otherwise. Fund summary, fund performance and dividend data provided by Morningstar Inc. Analyst recommendations provided by Zacks Investment Research. StockScouter data provided by Verus Analytics. IPO data provided by Hoover's Inc. Index membership data provided by Morningstar Inc.
MARKET UPDATE
[BRIEFING.COM] The S&P 500 trades higher by 0.4% with all ten sectors sporting gains. The benchmark index has extended this week's gain to 1.6%, while the Dow Jones Industrial Average (+0.4%) is now higher by 2.0% since last Friday.

The Leading Indicators report for August was up 0.2%, while the Briefing.com consensus expected a reading of 0.4%. That followed a revised increase of 1.1% for July (from 0.9%). Nasdaq +13.77 at 4607.2... NYSE Adv/Dec 1867/883... Nasdaq Adv/Dec ... More
More Market News