Wildwood, N.J., wants you to hike your droopy pants
The shore town aims to cultivate a family-friendly image by banning folks from walking the boardwalk 'with their butts hanging out.'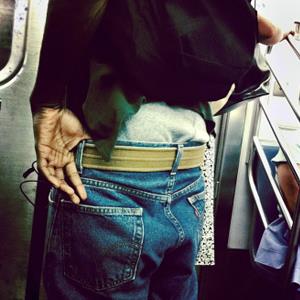 Wildwood, N.J., hopes to get young people to hike up their droopy pants where many others have failed.
The Jersey shore town is expected to approve a ban at a City Council meeting later Wednesday on what
The Associated Press
described as "overly saggy jeans that show underwear or skin when worn on the boardwalk." Offenders would be hit with fines ranging from $25 to $200, depending on the severity of the offense. The city also wants people to wear shirts and shoes when walking on the boardwalk.
Mayor Ernie Troiano told the Philadelphia Inquirer that the town is striking a blow for decency and noted that officials are "tired of looking at people walking around with their butts hanging out." He didn't respond to an email from MSN Money.
Wildwood has plenty at stake in diving into this cultural phenomenon.
Tourism is big business at the Jersey shore. About 59 million people visit the region annually, spending about $19 billion every year. The area is especially eager to get the word out that it's open for business in the wake of the devastation wrought last year by Superstorm Sandy. 
Critics, however, are mocking the baggy-pants crackdown, which could be unconstitutional, saying it's a clumsy attempt by Wildwood to shed its reputation as a raucous party town whose year-round population of 5,400 swells to more than 150,000 in summer.
"If Wildwood wants to 'maintain a family-friendly image,' their better bet is to stop letting houses rent to packs of 18-year-olds and their much younger friends on senior and prom week trips," Jen Miller wrote on Phillymag.com.
Indeed, a well-intentioned ordinance would be difficult to enforce. Some experts have raised concerns that it could lead to racial profiling. It seems likely that the job of fashion police would fall to the city's Class II Special Law Enforcement officers, who are employed in summer to help keep order. That presents its own problems.

"Most Special law Enforcement Officers are col­lege stu­dents, usu­ally but not always crim­i­nal jus­tice majors," according to the Wildwood Police Department's website. "Working with our depart­ment pro­vides valu­able expe­ri­ence to the indi­vid­ual as well as allows the offi­cer to receive cred­its towards their degree as well as sup­ple­ment­ing our ranks."
They may get more of an education than they bargained for.

Follow Jonathan Berr on Twitter @jdberr.
DATA PROVIDERS
Copyright © 2014 Microsoft. All rights reserved.
Fundamental company data and historical chart data provided by Morningstar Inc. Real-time index quotes and delayed quotes supplied by Morningstar Inc. Quotes delayed by up to 15 minutes, except where indicated otherwise. Fund summary, fund performance and dividend data provided by Morningstar Inc. Analyst recommendations provided by Zacks Investment Research. StockScouter data provided by Verus Analytics. IPO data provided by Hoover's Inc. Index membership data provided by Morningstar Inc.
MARKET UPDATE
[BRIEFING.COM] S&P futures vs fair value: -5.50. Nasdaq futures vs fair value: -13.00. Nasdaq at... NYSE Adv/Dec 0/0... Nasdaq Adv/Dec 0/0.
More Market News