Shopper files suit over 'stealing' free samples
A Minnesota man says Supervalu violated his civil rights when he was forcibly arrested for taking more than a pound of complimentary deli meat.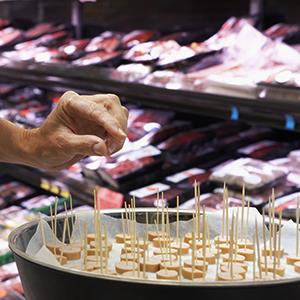 The first dictionary definition of "sample" is "a small part of anything or one of a number, intended to show the quality, style, or nature of the whole; specimen." Boulder, Colo., jam-rock band The Samples took their name from the free bites they subsisted on at a nearby King Soopers grocery store.
Minnesota shopper Erwin Lingitz feels his interpretation of "sample" falls somewhere between the two. It's the crux of a lawsuit he has filed against supermarket chain Supervalu (SVU) alleging that it violated his civil rights by using force to arrest him on grounds he was stealing deli meat samples.
Lingitz, a retiree, has sued the chain and several individuals in a claim filed last month, alleging store security and, later, sheriff's officers had no right to forcibly eject him in 2010, given the nature of the food he was consuming. As Lingitz's wife Frankie told The Pioneer Press, "You can't arrest someone for thievery if it is free."
Point made, but Supervalu counters that the more than a pound of meat Lingitz took from Cub Foods, a Supervalu subsidiary, is tough to construe as a "sample" under all but the most literal senses of the word.
"A reasonable person would not fill two produce bags with 1.4 pounds of deli meat samples to take out of the store," Supervalu spokesman Mike Siemienas told the Pioneer Press. "The plaintiff violated societal norms and common customer understanding regarding free sample practices."
It's that "societal norms" bit that's causing Supervalu and the other plaintiffs no shortage of grief as this case unfolds. Supervalu says store managers had warned Lingitz earlier that he was taking too many samples, alleging in their reply to the lawsuit that Lingitz had filled produce bags with up to 20 cookies from the "kids cookie club tray."
After Lingitz was kicked out of the store and handcuffed during the meat sample incident, Supervalu attorney Robyn Johnson says, Lingitz's pockets were stuffed with "14-16 packets of soy sauce along with one plastic produce bag containing 0.61 pounds for (sic) summer sausage and another plastic produce bag containing 0.85 pounds of beef stick."
Does all of that fall beyond "societal norms"? Perhaps. But Lingitz's attorney, Robert Gardner, says the force that the security guard and deputies allegedly used to subdue 68-year-old Lingitz wasn't quite normal either. Photos included with the lawsuit, taken at a hospital before Lingitz was booked into jail, show him with two black eyes, a slash across the bridge of his nose and cuts and bruises.
Lingitz was charged with shoplifting, disorderly conduct and interfering with a peace officer. The charges were all misdemeanors, and he pleaded not guilty. Lingitz completed a year's unsupervised probation, and a judge dismissed the charges last March.
DATA PROVIDERS
Copyright © 2014 Microsoft. All rights reserved.
Fundamental company data and historical chart data provided by Morningstar Inc. Real-time index quotes and delayed quotes supplied by Morningstar Inc. Quotes delayed by up to 15 minutes, except where indicated otherwise. Fund summary, fund performance and dividend data provided by Morningstar Inc. Analyst recommendations provided by Zacks Investment Research. StockScouter data provided by Verus Analytics. IPO data provided by Hoover's Inc. Index membership data provided by Morningstar Inc.
MARKET UPDATE
[BRIEFING.COM] The stock market began the new week on a cautious note. The S&P 500 lost 0.3%, but managed to erase more than half of its opening decline. Thanks to the rebound, the benchmark index reclaimed its 50-day moving average (1976.78) after slipping below that level in the morning.

Equities slumped at the open amid a couple global developments that dampened the overall risk appetite. Continued student protests in Hong Kong and a potential response from China weighed on the ... More
More Market News