Wendy's new pretzel burger seeks prestige
The fast-food chain looks to its new bun for help drawing bigger spenders.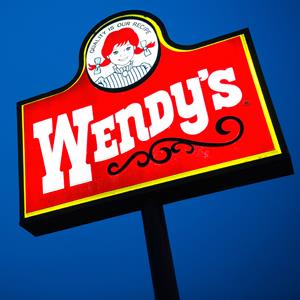 Nothing says "classy joint" quite like sandwiching a bacon cheeseburger in the middle of a pretzel.
Angling for the kind of refinement customers can typically only find at their local Panera Bread or Red Robin, Wendy's (WEN) outlets in Miami have begun offering a Pretzel Bacon Cheeseburger for a limited time. ESPN's Darren Rovell tweeted out a photo of the big burger and, aside from the hearty hot-crossed bun above and below it, the burger doesn't look altogether different from its Bacon Deluxe or Baconator sandwiches.
That is, of course, the entire point. The fast-food industry of late has been awash in standard offerings sandwiched in the gimmick of the moment, with recent examples including Yum Brands' (YUM) chicken-as-bread Double Down sandwich from KFC, Taco Bell's Doritos-shell tacos and Pizza Hut Singapore's Double Sensation pizza within a pizza. The only difference in Wendy's case is that the chain sees a pretzel bun not as a fast-food frivolity, but a step away from its drive-thru roots.
Wendy's really wants to improve the eating public's perception of its food quality, especially as climbing meat costs force it to raise prices and independent competitors like Five Guys, In-N-Out Burger and Whattaburger squeeze its burger market share. Wendy's recently drifted away from its 99-cent menu in favor of a "Right Size, Right Price" value menu with items topping out at $2.
Combined with modernized outlets designed to look more like Panera Bread or Cosi than a burger shack, Wendy's new pretzel bun is attempting to woo eaters who may not be so put off by low-end price hikes. Wendy's honchos hinted at a pretzel bun as early as this summer and noted that Wendy's own bakery could help it provide "five star quality breads at three-star pricing."
While the chain also intends to add flatbreads for its chicken sandwiches, it believes the pretzel roll is key to winning the hearts and minds of the fast-food averse. Shelly Thobe, head of Wendy's hamburger division, told the Associated Press that breads like the pretzel roll not only distinguish Wendy's from fast-food competitors, but make it appealing to customers who "eat with their eyes" and have long spurned the squashed, cottony hamburger bun.
But is a pretzel bun really Wendy's key to the big-money, high-prestige fast-casual diner's club? Yes, but perhaps not as Wendy's has in mind. Red Robin pulled out the pretzel buns for its Oktoberfest offerings last fall, but used them for an Oktoberfest burger that was paired with a milkshake infused with Samuel Adams (SAM) Octoberfest beer. Zagat reported that California fast-casual mini-chain Slater's 50/50 sandwiched an "Armageddon Burger" of meatloaf made with 50% bacon and 50% ground beef and stacked with prosciutto inside a pretzel bun in advance of the supposed Mayan apocalypse on Dec. 21.
Also, high-end burgers haven't worked out so well for Wendy's heavy-hitting competitors. McDonald's (MCD) has experimented with premium angus burgers, gourmet coffee and smoothies, but turned back to the McRib and value menu after slumping October sales indicated customers wanted cheap and familiar options. Burger King (BKW), meanwhile, pursued the 18- to 34-year-old male demographic with giant, beefy burgers before giving up earlier this year and adding premium chicken sandwiches and smoothies for everyone else.
Changing Wendy's bun is a slightly lesser risk, but in both fast food and fast casual, the pretzel bun isn't a status symbol. It's a novelty. As long as customers pay sit-down prices for the pretzel-clad burger in their to-go bag, though, Wendy's can twist it any way it wants.
More on Money Now
DATA PROVIDERS
Copyright © 2014 Microsoft. All rights reserved.
Fundamental company data and historical chart data provided by Morningstar Inc. Real-time index quotes and delayed quotes supplied by Morningstar Inc. Quotes delayed by up to 15 minutes, except where indicated otherwise. Fund summary, fund performance and dividend data provided by Morningstar Inc. Analyst recommendations provided by Zacks Investment Research. StockScouter data provided by Verus Analytics. IPO data provided by Hoover's Inc. Index membership data provided by Morningstar Inc.
MARKET UPDATE
[BRIEFING.COM] The stock market began the new trading week on the defensive note with small-cap stocks pacing the retreat. The Russell 2000 (-1.4%) and Nasdaq Composite (-1.1%) displayed relative weakness, while the S&P 500 lost 0.8% with all ten sectors ending in the red.

Global equities began showing some cracks overnight after China's Finance Minister Lou Jiwei poured cold water on hopes for new stimulus measures. Specifically, Mr. Lou said the government has no plans to change ... More
More Market News