Visit your parents -- or get sued by them
China cracks down on adult children who may be neglecting or possibly abusing their elderly parents.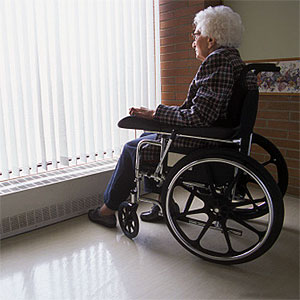 It's always good to visit Mom and Dad. In China, it's now a law.
The national legislature there is now requiring that adult children visit their parents often. Otherwise, elderly parents who feel ignored can sue their kids. Wow, dinner conversations must be pretty awkward in that scenario.
The law is partly a reflection of a cultural change in parts of the developing country. The traditional extended family in China is fading,
according to
the Associated Press. Historically in many Asian cultures, aging parents and grandparents live with a child or other family member. Sending a parent to a nursing home was just not acceptable -- nor was it affordable for many families.
But that's changing, particularly as China's elderly population rapidly expands. Lately, the Chinese government has seen a growing number of reports of elder abuse. State media carried the story of one son in the well-to-do province of Jiangsu who reportedly forced his elderly mother to live in a pig pen for two years, according to the AP.
Elder-abuse cases in Hong Kong have risen 15% in the last two years, the South China Morning Post
reported
earlier this year. "Because of Chinese culture, elderly people are reluctant to reveal the disgraceful affairs of their families," the director of one advocacy group, Against Elderly Abuse, told the newspaper.
The new law doesn't say how often children must visit their parents -- and there may not be enough grounds here for any resulting lawsuit. But China now has nearly 167 million people over age 60, the BBC
reports
. While the law is partially intended to sustain the family unity that may be starting to fray in China, it's also an attempt to ensure that the oldest and weakest members of society are cared for.
More from Money Now

MARKET UPDATE
[BRIEFING.COM] The major averages ended modestly lower with the S&P 500 shedding 0.3%.

The benchmark average saw an opening loss of 1.2% after Japan's Nikkei tumbled 7.3%. Japanese stocks sold off amid continued volatility in Japanese Government Bond futures as the 10-yr yield spiked almost 16 basis points to 1.002 before the Bank of Japan's JPY2 trillion liquidity injection caused yields to retrace their gains.

Adding insult to injury was news out of China where the HSBC ... More
More Market News
TOP STOCKS
Many signs point to a dollar rally
With Europe mired in recession, China faltering, commodities declining and stocks looking vulnerable, investors seeking safety will look to the greenback.