Groupon CEO's goodbye pay: $378.36
The newly unemployed Andrew Mason will take home half of his annual salary as severance. Sounds great until you see what he was making.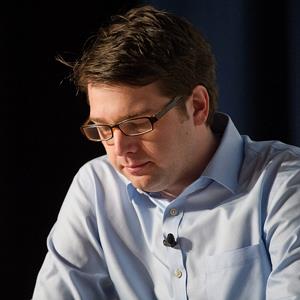 Andrew Mason, the 32-year-old CEO that
Groupon
(
GRPN
)
fired
Thursday, isn't leaving with a golden parachute. His parachute is made of toilet paper and toothpicks.
According to Mason's employment agreement with the company he co-founded, Groupon will only pay his salary for six months after he leaves. That sounds great until you see what he was making: $756.72 a year.
So Mason will be taking home half of that, or $378.36.
How did Mason land on that salary? Who knows? The company isn't saying. He asked for a pay cut in 2011 from the $180,000 he was making previously.
And now, fresh from what had to have been a nightmare helming a struggling company like Groupon, Mason has enough to do any of the following:
Mason's humorous goodbye memo to employees is getting a lot of praise from the Internet Friday. He told workers that they "deserve the outside world to give you a second chance. I'm getting in the way of that. A fresh CEO earns you that chance."
Here's the entire memo:
People of Groupon,

After four and a half intense and wonderful years as CEO of Groupon, I've decided that I'd like to spend more time with my family. Just kidding - I was fired today. If you're wondering why... you haven't been paying attention. From controversial metrics in our S1 to our material weakness to two quarters of missing our own expectations and a stock price that's hovering around one quarter of our listing price, the events of the last year and a half speak for themselves. As CEO, I am accountable.

You are doing amazing things at Groupon, and you deserve the outside world to give you a second chance. I'm getting in the way of that. A fresh CEO earns you that chance. The board is aligned behind the strategy we've shared over the last few months, and I've never seen you working together more effectively as a global company - it's time to give Groupon a relief valve from the public noise.

For those who are concerned about me, please don't be - I love Groupon, and I'm terribly proud of what we've created. I'm OK with having failed at this part of the journey. If Groupon was Battletoads, it would be like I made it all the way to the Terra Tubes without dying on my first ever play through. I am so lucky to have had the opportunity to take the company this far with all of you. I'll now take some time to decompress (FYI I'm looking for a good fat camp to lose my Groupon 40, if anyone has a suggestion), and then maybe I'll figure out how to channel this experience into something productive.

If there's one piece of wisdom that this simple pilgrim would like to impart upon you: have the courage to start with the customer. My biggest regrets are the moments that I let a lack of data override my intuition on what's best for our customers. This leadership change gives you some breathing room to break bad habits and deliver sustainable customer happiness - don't waste the opportunity!

I will miss you terribly.

Love,

Andrew

MARKET UPDATE
[BRIEFING.COM] Stocks ended modestly higher as the S&P 500 climbed 0.2%, and the Dow added 0.4% to register its 19th consecutive Tuesday of gains.

The major averages saw little change during morning action, but afternoon buying interest helped lift the indices to session highs. Most cyclical sectors (with the exception of materials and technology) finished among the leaders, but the defensively-geared health care sector settled atop the leaderboard as biotechnology outperformed. ... More
More Market News