Does reward money help solve crimes?
A dispute over awarding $1 million to people involved in a high-profile California manhunt is renewing the debate.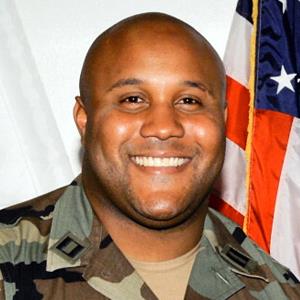 During last month's manhunt in California for Christopher Dorner, the fired Los Angeles cop who apparently went on a deadly revenge-related shooting spree, the city offered a $1 million reward for Dorner's arrest and capture.
Dorner (pictured) committed suicide 10 days after the dragnet began, when we was cornered by authorities in a mountain cabin. Two people have since come forward to claim that reward. But according to the Los Angeles Times, some of the more than 25 individuals and organizations that pledged the reward money are now having second thoughts.
"I've spoken with some groups -- including a few that are substantial -- that have already decided to withdraw their pledges," Ron Cottingham, president of the Peace Officers Research Association of California, told the newspaper. "They said the reward doesn't fit their criteria."
At issue, apparently, is that Dorner died before he could be captured and tried, a fact that one top LAPD officer called "disingenuous" and a loophole that could undermine future police efforts to get information about unsolved crimes.
The practice of offering these rewards goes back hundreds if not thousands of years, but their effectiveness is still being debated by experts.
"Rewards sometimes are funny," FBI veteran Jody Weis told the Chicago Tribune in 2010, when he was the city's police superintendent. "In some places, they generate a lot of information and others they don't." A lot of times the fear of retaliation from criminals is enough to keep people quiet, even if the reward money is substantial.
Some legal professionals worry that rewards can cause problems during a trial. Eugene O'Donnell, a former New York City police officer and prosecutor who now teaches law and police studies at John Jay College of Criminal Justice, noted that juries often take a harder look at a witness who has been paid for information.
The testimony of such witnesses, he told the Pittsburgh Post-Gazette last year, "can be ever so slightly tilted because now [he] becomes the beneficiary of the conviction. It can color the way a jury views that witness. It can be the grounds for cross-examination and it can be the grounds for reasonable doubt."
Reward money can come from a variety of sources, says the website Lawyers.com. A lot of cities and states have their own Crime-Stoppers programs, which generate reward money via tax-deductible donations from businesses and individuals. Some police departments are also required to donate part of revenues made from auctioning unclaimed stolen property to those programs. And sometimes a victim's friends, family or even outraged strangers will put up reward money.
And then again, "a lot of people will call just because they feel they should, not just because of the reward money," Allegheny County, Pa., police detective Robert Opferman said in an interview with the Post-Gazette. "I get a lot of feedback when people call in. A lot of times, it doesn't even register that there is a reward. Many tipsters are calling because they don't think what happened was right."
DATA PROVIDERS
Copyright © 2014 Microsoft. All rights reserved.
Fundamental company data and historical chart data provided by Morningstar Inc. Real-time index quotes and delayed quotes supplied by Morningstar Inc. Quotes delayed by up to 15 minutes, except where indicated otherwise. Fund summary, fund performance and dividend data provided by Morningstar Inc. Analyst recommendations provided by Zacks Investment Research. StockScouter data provided by Verus Analytics. IPO data provided by Hoover's Inc. Index membership data provided by Morningstar Inc.
MARKET UPDATE
[BRIEFING.COM] The stock market finished the Tuesday session on the defensive after spending the entire day in a steady retreat. The S&P 500 (-0.6%) posted its third consecutive decline, while the small-cap Russell 2000 (-0.9%) slipped behind the broader market during afternoon action.

Equity indices were pressured from the start following some overnight developments that weighed on sentiment. The market tried to overcome the early weakness, but could not stage a sustained rebound, ... More
More Market News