Here's what Warren Buffett's saying on Twitter
The Oracle of Omaha has sent 2 messages ahead of Berkshire Hathaway's annual meeting this weekend.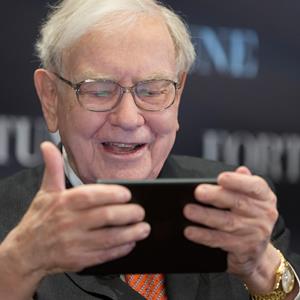 When Warren Buffett announced this week that he
had joined
Twitter
, more than 300,000 people began following him in the hopes that the greatest investor in history would be able to distill pearls of wisdom in 140 characters. But by Friday afternoon,
@WarrenBuffett
's fans were still waiting.
To be fair, Buffett is busy preparing for this weekend's
Berkshire Hathaway
(
BRK.A
) annual meeting, dubbed the "Woodstock of capitalism," and has better things to do than mix it up with his tweeps (slang for Twitter followers). Thus far, the billionaire has said the following: "Warren is in the house" and "Read my new essay on why women are key to America's prosperity."
These tweets are straightforward and direct, just like the Oracle of Omaha. And Buffett probably wrote them all by himself. The billionaire is one of the few executives in the Fortune 500 who doesn't have a phalanx of pubic relations people scripting his every utterance. Reporters who want a comment from him must leave a message with his secretary, Debbie Bosanek.
Moreover, he seems to actually like dealing with the media. He's on CNBC so often that the
Comcast
-owned (
CMCSA
) network should invite him to its holiday party, if it doesn't do so already.
He likes give-and-take banter so much that he allows shareholders to quiz him and partner Charlie Munger every year. Most of the queries are softballs, however, and Buffett has grown so tired of it that this year he is pressing reporters to ask him tougher questions. Buffett even invited Doug Kass, one of the few pundits who has ever dared to publicly predict that Berkshire's shares will fall.
Buffett's approach to investing is for the long-term, perhaps forever, some might say. In some ways, that philosophy is the antithesis of the instant communication that Twitter enables.  Buffett is a famous technophobe, but he should be able to get the hang of Twitter. Heck, he may even want to buy the company. Its $7 billion market valuation would barely put a dent in his sizable fortune.

--Jonathan Berr does not own shares of the listed stocks. Follow him on Twitter @jdberr.
The Greatest investor in history? The Greatest Corporate Welfare Recipient of All Times. GEICO anybody.... If you don't know what I'm saying then you are in a very sad position. When I was growing up Insurance wasn't mandatory. They Fed this troll Trillions of Dollars. 

There's your Greatest Investor; a Corporate Welfare Government Trout Feeding Queen
Are you sure you want to delete this comment?
DATA PROVIDERS
Copyright © 2014 Microsoft. All rights reserved.
Fundamental company data and historical chart data provided by Morningstar Inc. Real-time index quotes and delayed quotes supplied by Morningstar Inc. Quotes delayed by up to 15 minutes, except where indicated otherwise. Fund summary, fund performance and dividend data provided by Morningstar Inc. Analyst recommendations provided by Zacks Investment Research. StockScouter data provided by Verus Analytics. IPO data provided by Hoover's Inc. Index membership data provided by Morningstar Inc.
MARKET UPDATE
[BRIEFING.COM] The S&P 500 (-0.1%) continues hovering right below its flat line with heavily-weighted sectors like financials (-0.2%), industrials (-0.1%), and technology (-0.5%) pressuring the broader market.

On the upside, countercyclical telecom services (+0.6%) and utilities (+0.7%) sport solid gains, but the two groups carry little influence over the broader market since they represent just 5.4% of the entire S&P 500. Meanwhile, the top-weighted sector-technology-accounts ... More
More Market News
TOP STOCKS
Up next: The biggest bank IPO ever
The expected $3.36 billion offering from Citizens Financial Group won't come close to Alibaba's, but it will be an important one for the market.