New York condo board sues to keep Denny's out
It faces a $10 million lawsuit as residents above its first proposed location in the city call its patrons 'drunk, disorderly, violent and criminal.'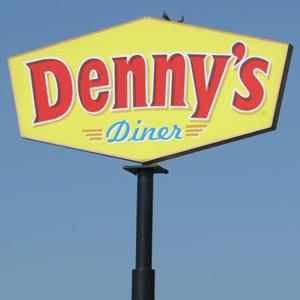 Manhattan condo dwellers may not think much of the bridge-and-tunnel crowd that calls their neighborhoods' bars and restaurants home during the late evening hours, but at least the kids from New Jersey and Long Island have their own diners to go home to.
Now, though, a proposed Denny's (DENN) in Lower Manhattan -- which would be the first in NYC -- would bring that far-suburban diner into "The City" with them. For folks living in a Financial District building where Street Easy says an apartment just sold for $1.45 million, that just won't do.
The building's condo board just filed a $10 million lawsuit in New York State Supreme Court seeking to stop the restaurant from moving into the building's retail space, according to New York City real estate site The Real Deal.
That suit's lofty price tag is indicative of condo board's low esteem for Denny's, which it considers "a fast food chain synonymous with a late night party atmosphere, as well as drunk, disorderly, violent and criminal conduct." Where are the residents of the 125-unit building getting that idea? YouTube has plenty of examples -- none very pleasant to watch -- featuring  brawls at Denny's outlets across the country.
The owners of the New York building's ground-floor commercial space have shrugged off Denny's notorious last-call clashes and expect the chain to prevail, but so far they've taken a beating on par with any dished out over Grand Slam breakfasts in those videos. As the condo board's complaint notes, the city's Department of Buildings already rejected construction plans for the Denny's location because they would affect the structural stability of the building, which was originally completed in 1896. The plans also contained incomplete zoning analysis, a big no-no in Manhattan.
The hypothetical Denny's location also retreated from its initial plans to sell beer and wine after receiving more than 50 complaint letters, according to Grub Street. Residents of the surrounding area represented by Community Board 1 are still skeptical and say Denny's will just resubmit its wine-and-beer application later.
The commercial space's owners and Denny's itself may feel just a bit slighted considering that the location they're trying to fill had a Yum Brands (YUM) Taco Bell as its last resident. However, that was roughly a decade ago when offices filled the floors upstairs. According to DNAinfo, the building was converted to residential condominiums in 2003, and residents have since turned a wary eye toward students at nearby commuter school Pace University.
Denny's may one day get its chance to play in the world of disco fries and egg creams, but it's quickly learning that its punchy, lowbrow reputation elsewhere isn't exactly an endearing quality when you're trying to impress a Big Apple condo board.
DATA PROVIDERS
Copyright © 2014 Microsoft. All rights reserved.
Fundamental company data and historical chart data provided by Morningstar Inc. Real-time index quotes and delayed quotes supplied by Morningstar Inc. Quotes delayed by up to 15 minutes, except where indicated otherwise. Fund summary, fund performance and dividend data provided by Morningstar Inc. Analyst recommendations provided by Zacks Investment Research. StockScouter data provided by Verus Analytics. IPO data provided by Hoover's Inc. Index membership data provided by Morningstar Inc.
MARKET UPDATE
[BRIEFING.COM] The stock market finished the Thursday session on a higher note with the S&P 500 climbing 0.5%. The benchmark index registered an early high within the first 90 minutes and inched to a new session best during the final hour of the action.

Equities rallied out of the gate with the financial sector (+1.1%) providing noteworthy support for the second day in a row. The growth-oriented sector extended its September gain to 1.9% versus a more modest uptick of 0.4% for the ... More
More Market News