Train travel makes a comeback
Despite some political and economic hurdles, more communities are reviving intercity rail links or making plans for new ones.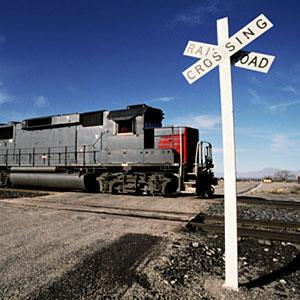 Train travel in the U.S. has long been derided as outdated, inefficient, expensive and a sad relic of America's past rail glories. 
But given high gas prices, worsening traffic conditions, airline industry cuts and government pledges to renew the nation's infrastructure, it appears passenger train service is quietly making a comeback across the country.
Here are some recent examples:
For the first time in decades, starting next summer, passenger rail service will be running again between Boston and Cape Cod. Boston.com says the two-hour trip from Beantown to Hyannis will cost about $30 for a round-trip ticket.
Earlier this month, Amtrak revived its Richmond-to-Norfolk passenger service in Virginia for the first time since 1977 -- also with an eye on beach-bound travelers. WTVR-TV says the state invested $100 million in the rail line, and will pay an additional $1 million in annual costs.                        
The Arizona Department of Transportation is currently looking at the feasibility of a passenger rail link between Phoenix and Tucson.
Plans are in the works for luxury train service from Southern California to Las Vegas starting late next year. Promoters of the X Train say their service will bring hundreds of millions of dollars in investment and employment opportunities to the region.
Amtrak plans to launch Chicago-to-Omaha passenger service by the end of 2015. An Iowa Department of Transportation official tells KPTM-TV the service would not only have Wi-Fi, café cars and ADA-accessible bathrooms, but would also help the state save on highway repairs.

Amtrak meanwhile, just announced plans to improve passenger service in its important Northeast Corridor by adding to its existing fleet of high-speed Acela trains. "Moving directly to new high-speed train sets is the best option to create more seating capacity, permit higher speeds, and maximize customer comfort all while improving equipment reliability and reducing operating costs," Amtrak CEO Joseph Boardman said in a press statement.
Amtrak set a national ridership record of 31.2 million passengers in fiscal 2012 -- including a new record 11.4 million travelers on its Northeast Corridor services. Amtrak says it currently carries "three passengers for every one airline passenger between New York and Washington, and carries more passengers between New York and Boston than all the airlines combined."
Not all the news is positive for passenger rail travel.
Governors in Florida, Ohio and Wisconsin rejected federal grants last year for high-speed rail service in their states -- part of an Obama Administration plan to upgrade and improve America's tattered rail corridors. And a planned rail link between Northern and Southern California is running into financial and political obstacles.

But earlier this month, an administration official said that, despite the current fiscal crisis, it remains committed to passenger train travel.
"We're not giving up on high-speed rail," Transportation Secretary Ray LaHood said, according to the Washington Post, during testimony before a congressional committee. "The president will include funding in his budget. I think we'll get there with public money, but in the absence of that we'll get there with private money."
More from Money Now

I can't understand the states Governors that voted down the rail work.
Would have been good for the cyitizens and created more jobs.
Republican or Democrat what ever they were or are they made bad business decisions that us voters did not agree with.
When they find themselves voted out of office they shouldn't wonder why.



Typical liberal press article here. I can't speak to the specifics of why high speed rail was shut down in other states, but the article only briefly mention the HUGE BOONDOGGLE high speed rail has been here in California. The cost of the project is MANY TIMES MORE THAN WHAT THEY TOLD US. There can be no question that we were absolutely LIED TO about the cost of the project. I suspect it's the same story in those other states, which is why their governors didn't allow those projects to happen.
By the way, I am ALL FOR increased passenger train service...but it still has to make economic sense.
Are you sure you want to delete this comment?
DATA PROVIDERS
Copyright © 2014 Microsoft. All rights reserved.
Fundamental company data and historical chart data provided by Morningstar Inc. Real-time index quotes and delayed quotes supplied by Morningstar Inc. Quotes delayed by up to 15 minutes, except where indicated otherwise. Fund summary, fund performance and dividend data provided by Morningstar Inc. Analyst recommendations provided by Zacks Investment Research. StockScouter data provided by Verus Analytics. IPO data provided by Hoover's Inc. Index membership data provided by Morningstar Inc.
MARKET UPDATE
[BRIEFING.COM] S&P futures vs fair value: -6.60. Nasdaq futures vs fair value: -14.50. The S&P 500 futures trade seven points below fair value.

Markets across most of Asia ended on a lower note, while Japan's Nikkei was closed for Autumn Equinox.

Economic data was limited:

China's HSBC Manufacturing PMI ticked up to 50.5 from 50.2 (expected 50.0)
Singapore's CPI eased to 0.9% year-over-year (expected 1.2%; previous ... More
More Market News