Gun ammunition suddenly in short supply
Hunters and hobbyists have depleted shop shelves since the Connecticut school shooting in December. It's 'a Black Friday atmosphere,' one store manager says.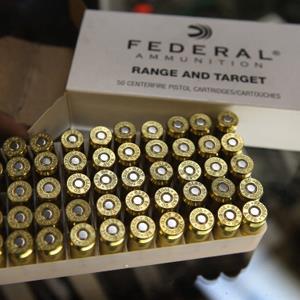 Ammunition is getting scarce for gun owners, and some people suspect the recent school massacre in Connecticut is one reason behind the run.
The largest seller of guns in the U.S.,
Wal-Mart
(
WMT
), is limiting sales of ammunition at its stores to three boxes per customer a day.
And it's not only Wal-Mart. Over the weekend, gun owners in Myrtle Beach, S.C., lined up outside the local Bass Pro Shops store.
The store's operations manager, Brad Andrews, told
WBTW-TV
there's been "a bit of a Black Friday atmosphere" at the shop for several weeks now as hunters and gun hobbyists try to stock up from any new shipments of ammunition.
Sales of guns and ammunition have reportedly risen sharply across the country since the Dec. 14 elementary school shooting.
"It probably has something to do with the recent event in Newtown, Connecticut, the shooting out there," said would-be ammunition buyer Richard Harney. "People just went out and bought it all out. The demand is there, we just saw it, a lot of ammo was off the shelves in two minutes."
Another gun owner at the Myrtle Beach Bass Pro Shops, George Schultz, believes the run on ammunition is due to fears of an impending government crackdown on weapons. "People are scared," he said. "I guess they're just loading up on whatever they can, and it's just a shortage."
The website for
Ammunition to Go
, based in Texas, alerts potential customers to shipping delays of 24 to 26 days due to the high volume of orders.
Law enforcement is also feeling the ammunition pinch. The Metropolis, Ill., Police Department can't find ammo for its .40 caliber semiautomatic pistols.
"We've been told from our supplier that pistol ammunition is almost become nonexistent," Metropolis police chief Harry Masse told KFVS-TV. He notes the ammunition shortage is also driving up costs.
"I used to complain when they cost us 7 to 8 cents a round," he said. "Now they're costing us 30 cents a shot. And there's 50 rounds per box. So it adds up quickly."
More on 
moneyNOW
DATA PROVIDERS
Copyright © 2014 Microsoft. All rights reserved.
Fundamental company data and historical chart data provided by Morningstar Inc. Real-time index quotes and delayed quotes supplied by Morningstar Inc. Quotes delayed by up to 15 minutes, except where indicated otherwise. Fund summary, fund performance and dividend data provided by Morningstar Inc. Analyst recommendations provided by Zacks Investment Research. StockScouter data provided by Verus Analytics. IPO data provided by Hoover's Inc. Index membership data provided by Morningstar Inc.
MARKET UPDATE
[BRIEFING.COM] S&P futures vs fair value: -5.50. Nasdaq futures vs fair value: -13.00. Nasdaq at... NYSE Adv/Dec 0/0... Nasdaq Adv/Dec 0/0.
More Market News