Tip jars go electronic
They also take a cut of the counter staff's often skimpy gratuity. But it's better than nothing when few customers carry cash.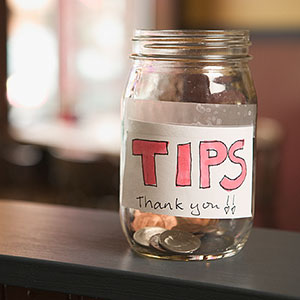 Want to tip your server but don't carry cash anymore and think tips have gotten out of hand? Never fear, electronic tip jars are here.
Combining all the convenience of a credit and debit card machine with all the stinginess of a Dickensian factory owner, new electronic options let customers use their cards to tip -- or, too often, undertip -- with aplomb, Reuters reports.
More than 30% of debit card receipts were for less than $10 in 2011, while the median amount was just $19, according to the ATM/debit network Pulse. That's great for businesses but not so much for workers, who no longer receive the spare singles folks don't carry around anymore. Those humble tip jars boosted wages by $2 to $3 an hour, but electronic versions get far less love from a swiping class not averse to whipping out the plastic for a 45-cent payment.
In New York City, the DipJar pilot program lets customers in six shops throughout the city use a stand-alone machine to swipe a preset tip that usually hovers around $1. It offers an old-fashioned cash register ring when a tip is tallied but no receipt to calm paranoid patrons.
Startup service Ziptip, meanwhile, lets consumers in Boston and locations in Florida scan square QR codes and put tips directly into a recipient's account. This nullifies a core complaint from wait staff, taxi drivers and others accustomed to waiting a day or so for a credit card tip.

Even Starbucks (SBUX) is getting in on e-tipping by allowing customers who make mobile payments add a tip through the Square payment system.
None of this makes tipping on cards ideal, however. Though DipJar locations are protected under a New York State law that prohibits employers from taking a cut of tips for any reason, store and restaurant managers in other states will often deduct a portion of tips for card processing fees.

DipJar's founders say they're covering fees on credit and debit cards for the first six months of their pilot program, but they're already trying to work out deals with card companies that would allow folks being tipped to keep at least 80% of the take. Still, that's only 80 cents for every dollar tipped.
That's only a slightly better deal than folks on each end of a Ziptip exchange are getting. Under that system, tippers pay an extra 1% to cover Ziptip's costs, while tip recipients pay fees on the PayPal payment service Ziptip is using. There's also the undercurrent of resentment among tip-jar trolls who find the whole thing unnecessary in either cash or credit form and already have a problem with tipping for pizza delivery and Applebee's (DIN) table service.
The argument is that unlike wait staff and restaurant servers, who make the federal tip minimum wage of $2.13 an hour set in 1991, baristas and other counter workers make the regular minimum wage or better. At Starbucks, they also qualify for health care benefits.
Then again, even with tips, restaurant servers make only $8.90 an hour while skirting the poverty line, according to worker advocacy group ROC United. With misers clenching their fists and managers at Denny's (DENN), Darden Restaurants (DRI), Papa John's (PZZA) and other chains already vowing to cut worker hours and impose surcharges in the wake of new health care mandates, counter workers can use all the e-support they can get.
I think its great, in a negative way. When are you folks who use these electronic banking and debit cards going to realize its another form of a tracking device as well as rounding your money upward. And as you've seen, they've become impersonal in the tipping process, expecting a tip for what?
Just as importantly, how did those of you who tip at a Starbucks type of establishment, for a lousy cup of coffee, handed to you at the counter, get roped into tipping for a service that is essentially no different than going to 711 or am/pm or circle K. Yep, they prey on your emotions, overcharge you and make you feel guilty if you don't..
Start adding up the real cost of tipping where tipping isn't really a function of the service and you'll find you're spending a lot of money on that 50 cent cup of coffee.
What this equates to is this: Those who tip and those who receive tips need to recognize it is not an obligation, but a thank you for going a step beyond of just showing up.
Are you sure you want to delete this comment?
DATA PROVIDERS
Copyright © 2014 Microsoft. All rights reserved.
Fundamental company data and historical chart data provided by Morningstar Inc. Real-time index quotes and delayed quotes supplied by Morningstar Inc. Quotes delayed by up to 15 minutes, except where indicated otherwise. Fund summary, fund performance and dividend data provided by Morningstar Inc. Analyst recommendations provided by Zacks Investment Research. StockScouter data provided by Verus Analytics. IPO data provided by Hoover's Inc. Index membership data provided by Morningstar Inc.
MARKET UPDATE
[BRIEFING.COM] The stock market finished an upbeat week on a mixed note. The S&P 500 shed less than a point, ending the week higher by 1.3%, while the Dow Jones Industrial Average (+0.1%) cemented a 1.7% advance for the week. High-beta names underperformed, which weighed on the Nasdaq Composite (-0.3%) and the Russell 2000 (-1.3%).

Equity indices displayed strength in the early going with the S&P 500 tagging the 2,019 level during the opening 30 minutes of the action. However, ... More
More Market News