Breakfast pizza becomes a hot menu item
Egg-and-bacon pies are becoming more popular as eateries look to morning items for growth.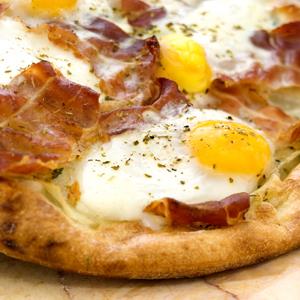 The breakfast pizza of choice for college students and bleary-eyed apartment dwellers has long been cold, congealed and left over from some delivery date long since passed. This hasn't stopped restaurant chains from trying to cook up an alternative.
Nation's Restaurant News recently pointed to numbers from Datassential that indicates pizza is now on 5% of breakfast menus at chain and independent restaurants in the U.S. That's 18% more menus than breakfast pizza occupied in 2008.
The financial crisis left eaters with one throbbing hangover, but it created some headaches for restaurants, too. Pizza chain Sbarro both entered and emerged from bankruptcy in 2011 and came away from its experience touting a breakfast pizza with bacon, sausage, eggs and mozzarella.

A Domino's (DPZ) franchise near the University of Dayton in Ohio has offered the 5,000-store chain's only breakfast pizza options since 2010, when it began offering $7.99 sauce-free pizzas with scrambled eggs, cheese, bacon, sausage, onions and jalapeno peppers.
Despite appearing on menus at places like Sbarro, which has more than 600 locations in the U.S., the breakfast pizza still exists primarily at independent shops and small chains. Casual dining chain BJ's has fewer than 120 locations, and includes a breakfast pizza of mozzarella, marinara sauce and eggs stuffed omelet-style with bacon, ham and sausage.

Bloomberg reported last year that breakfast pizza was a favorite of Wall Street traders, particularly those working at Nomura. Happy Joe's Pizza & Ice Cream Parlor, a 60-store chain based in Iowa, offers an omelet pizza Western-, Denver- and all-meat-style in more than a third of its shops.
"We deliver it to a lot of businesses in the morning," Happy Joe's marketing director Kristel Whitty-Ersen told Nation's Restaurant News.
Even that small start for breakfast pizza is having a big impact on the industry. Restaurant monitoring firm didn't spot a breakfast pizza on any of the menus it tracked until 2010, when it became the fastest-growing breakfast menu item in the country.
That same year, market research firm NPD Group found that breakfast accounted for 60% of all U.S. restaurant industry traffic growth since 2005. It also predicted that Americans' hunger for restaurant breakfast sandwiches would grow from 11 a year in 2004 to 14 a year by 2019.
The breakfast pizza would give chains yet another weapon to fight economic instability and decreasing sales. Subway launched its first breakfast offerings in 2010, the year NPD Group's report was issued. Wendy's (WEN) followed closely behind and McDonald's (MCD) took the opportunity to expand its own breakfast offerings during the last few years.
Yum Brands' (YUM) Taco Bell took its place at the breakfast table last year by introducing a Breakfast Crunchwrap including scrambled eggs, bacon or sausage, cheese and a hash brown all wrapped grilled in a flour tortilla. Taco Bell paired that concoction with Mtn Dew A.M., a mix of Mountain Dew and orange juice. Breakfast pizza hasn't cracked the fast food lineup yet, but if Taco Bell's breakfast pocket and Mountain Dew mimosa are any indication, it's not too far off.
More on Money Now
DATA PROVIDERS
Copyright © 2014 Microsoft. All rights reserved.
Fundamental company data and historical chart data provided by Morningstar Inc. Real-time index quotes and delayed quotes supplied by Morningstar Inc. Quotes delayed by up to 15 minutes, except where indicated otherwise. Fund summary, fund performance and dividend data provided by Morningstar Inc. Analyst recommendations provided by Zacks Investment Research. StockScouter data provided by Verus Analytics. IPO data provided by Hoover's Inc. Index membership data provided by Morningstar Inc.
MARKET UPDATE
[BRIEFING.COM] S&P futures vs fair value: -8.00. Nasdaq futures vs fair value: -19.00. Nasdaq at... NYSE Adv/Dec 0/0... Nasdaq Adv/Dec 0/0.
More Market News