Why Brazil's cars are such big killers
The booming country is pumping out autos -- many with US and European names -- that lag in safety features common elsewhere.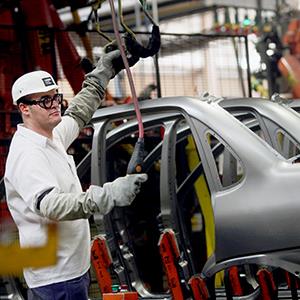 Critics have warned that globalization comes with a price. And it's not just low-wage workers in far-off places like Bangladesh who often pay that price in human lives. It also appears that auto buyers in South America's largest economy are paying a deadly toll.
Brazil is one of the BRICs, an acronym for Brazil, Russia, India and China, the international economies that have been booming in recent years while bringing hundreds of millions of their citizens out of poverty.
But The Associated Press released a startling report over the weekend outlining how auto manufacturers in Brazil, including European companies and U.S. makers such as Ford (F) and General Motors (GM) -- at facilities like GM's Sao Caetano plant (pictured) -- are producing vehicles that are apparently unsafe at any speed.
As AP notes, Brazil's economic engine has helped bring 40 million people there into the middle class over the past decade. And one of the first big purchases those newly minted middle-class Brazilians make is a car.
But more than 9,000 people died in car crashes in Brazil in 2010, compared with 12,435 in the U.S., which has an automobile fleet five times the size of Brazil's.

The problem, AP says, is that locally made cars are "produced with weaker welds, scant safety features and inferior materials compared (with those of) similar models manufactured for U.S. and European consumers, say experts and engineers inside the industry. Four of Brazil's five bestselling cars failed their independent crash tests."
The problem is apparently twofold. Driving conditions across a lot of Brazil remain dangerous. And then there are the cost-cutting efforts by local auto manufacturers that are trying to churn out cars rapidly for Brazilian consumers.
"The electricity used in building a car is about 20% of the cost of the structure," Marcilio Alves, an engineering professor at Brazil's University of Sao Paulo told AP.
"If you save on electricity, you save on cost," he added. "One way to save electricity is either (by) reducing the number of spot welds or using less energy for each spot weld made. This affects structural performance in the event of a crash."
AP also quotes the industry consulting firm IHS Automotive, which notes that Brazilian manufacturers earn a 10% profit on locally made cars, compared with 3% on cars made in the U.S. and a global average of 5%.
While stronger safety measures have dramatically reduced U.S. auto deaths over the decades, Brazil appears to be heading in the opposite direction.

"Entry-level cars in Brazil are incredibly dangerous, it can't be denied," Maria Ines Dolci, with the consumer defense group Proteste, said during an interview with the wire service. "The manufacturers do this because the cars are a little cheaper to make and the demands of the Brazilian consumers are less. Their knowledge of safety issues is lower than in Europe or the U.S."
European and American auto companies responded in a variety of ways to the AP report.

The news service said GM "had no comment other than to say that its cars in Brazil are legal." And in an emailed statement, Italy's Fiat (FIATY), which owns a controlling share of Chrysler, said its Brazilian-made vehicles have more body reinforcement to strengthen them against Brazil's "harsher roads and terrain."

AP also quotes an engineer for a major American automaker, who spoke on condition of anonymity, saying his company failed to implement many advanced safety features in Brazil because the law there doesn't require them.

"The automakers are pleased to make more profitable cars for countries where the demands, whatever they may be, are less rigorous," he said. "It happens everywhere -- India, China and Russia, for example."
DATA PROVIDERS
Copyright © 2014 Microsoft. All rights reserved.
Fundamental company data and historical chart data provided by Morningstar Inc. Real-time index quotes and delayed quotes supplied by Morningstar Inc. Quotes delayed by up to 15 minutes, except where indicated otherwise. Fund summary, fund performance and dividend data provided by Morningstar Inc. Analyst recommendations provided by Zacks Investment Research. StockScouter data provided by Verus Analytics. IPO data provided by Hoover's Inc. Index membership data provided by Morningstar Inc.
MARKET UPDATE
[BRIEFING.COM] The stock market began the new week on a cautious note. The S&P 500 lost 0.3%, but managed to erase more than half of its opening decline. Thanks to the rebound, the benchmark index reclaimed its 50-day moving average (1976.78) after slipping below that level in the morning.

Equities slumped at the open amid a couple global developments that dampened the overall risk appetite. Continued student protests in Hong Kong and a potential response from China weighed on the ... More
More Market News