Taco Bell Doritos flavor coming soon
Yum Brands and Frito-Lay join forces again after Doritos Locos Tacos take off.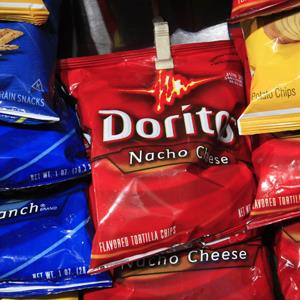 The line between Doritos and Taco Bell continues to blur into a formless, semi-orange blob that shifts shape based on the whims of its ravenous, gluttonous and often judgment-impaired patrons.
PepsiCo's (PEP) Frito-Lay has decided to just keep feeding that late-night monster by introducing a Taco Bell flavor of Doritos this spring.

The launch will mark the roughly one-year anniversary of Yum Brands' (YUM) Taco Bell embracing its slack-eyed clientele's darkest food fantasies and wrapping a Nacho Cheese Doritos shell around its taco ingredients. The chain has since sold more than 300 million Doritos Locos Tacos, airlifted some to a remote town in Alaska and planned a follow-up Cool Ranch varietal.
Doritos Locos Tacos now account for roughly a quarter of Taco Bell's taco sales and have boosted Frito Lay's bottom line after the company began supplying shells -- which started out as standard-issue Taco Bell shells sprayed with seasoning. The new Taco Bell Doritos, meanwhile, means hordes of folks with the munchies will have to let go of their comeback hopes for Doritos Late Night: Tacos At Midnight, which first appeared in 2008 before bowing out in 2010.
It also could mean that retro snackers will have to part with Taco Flavor Doritos and their straight-from-the-'7​0s bags. Don't expect many tears, though. The same demand that's driving Doritos' Taco Bell chips is also spawning new Doritos tacos, including a spicy "Flamos" variety, and an increasing amount of collaboration between Taco Bell and PepsiCo.
The two companies already have a fairly involved back story. PepsiCo bought Taco Bell from founder George Bell back in 1978 for $124 million. When PepsiCo decided to get out of the restaurant industry in 1997, it spun off Taco Bell and its other holdings into Yum Brands while maintaining a cozy relationship with its food court friends.
Today, PepsiCo and Taco Bell not only joined forces on Doritos Locos tacos, but work together on Taco Bell-specific sodas like Mountain Dew Baja Blast and the MTN DEW A.M. Mountain-Dew-and-ora​nge-juice concoction on the restaurant's recently debuted breakfast menu. They're not only using their mad munchie science to feed America at all hours, but they're conspiring to keep it awake as long as possible.
More on moneyNOW
DATA PROVIDERS
Copyright © 2014 Microsoft. All rights reserved.
Fundamental company data and historical chart data provided by Morningstar Inc. Real-time index quotes and delayed quotes supplied by Morningstar Inc. Quotes delayed by up to 15 minutes, except where indicated otherwise. Fund summary, fund performance and dividend data provided by Morningstar Inc. Analyst recommendations provided by Zacks Investment Research. StockScouter data provided by Verus Analytics. IPO data provided by Hoover's Inc. Index membership data provided by Morningstar Inc.
MARKET UPDATE
[BRIEFING.COM] Nov crude oil is trading higher this morning as the U.S. and Arab allies have begun missile strikes in Syria on the Islamic State. The energy component dipped to a session low of $90.77 moments after equity markets opened but quickly recovered back into positive territory. It popped to a session high of $91.90 in recent action and is now up 0.9% at $91.64.

Oct natural gas is chopping around in a tight range between $3.88 and $3.90 in the black. It is currently up 1.2% at ... More
More Market News