How Margaret Thatcher changed the US economy
The late British prime minister found a soul mate in Ronald Reagan when it came to free-market economic reforms.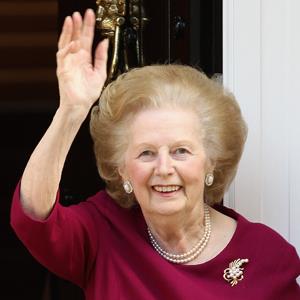 As the world remembers Margaret Thatcher, most of the tributes -- and criticisms -- reference her political achievements at home and abroad. But Baroness Thatcher, a grocer's daughter, also had a profound influence on U.S. economic policies as well.
Thatcher's government was extremely polarizing in the U.K. She became prime minister as Britain was struggling to recover from the end of its empire, its loss of global economic influence and its weak economy. And during her 11 years in power, her conservative government radically restructured the British economy, opening up and deregulating financial markets, privatizing public utilities and wresting power away from powerful trade unions.

She was also a skeptic when it came to a single-market approach for the European economy.
"Whether you like Mrs. Thatcher or not, she changed the British economy forever and she also changed the way British people think about money, capitalism and enterprise," Tony Travers, a lecturer at the London School of Economics, told the Times of India.
And she was a ideological soul mate with Ronald Reagan, whom she once called "the second-most important man in my life." And that meeting of the minds was apparently fine with The Gipper.
In his 2007 book, "Ronald Reagan and Margaret Thatcher: A Political Marriage," Nicholas Wapshott notes that Reagan's ready acceptance of Thatcher's advice essentially made her "an unofficial, unappointed, but wholly effective additional cabinet member."
Wapshott also draws a tie between the way Reagan and Thatcher successfully put down major labor disputes in their countries -- the U.S. air traffic controllers strike of 1981, defined by one history professor as "the strike that busted unions," and the British coal miners strike of 1984.
Reagan's stand against the "arbitrary power" of the unions, Wapshott wrote, changed how Americans and the world viewed his presidency, while Thatcher's battles against organized labor also "altered the way that Britain was governed and the way the country was viewed around the world."
And the two leaders supported each other's economic agendas. "Just as I would claim modestly that our tax cuts of 1981 have stimulated a wave of tax cutting around the world, so Margaret Thatcher's privatization program has been imitated as far afield as Turkey and New Zealand," Reagan wrote in a 1989 tribute quoted by The Wall Street Journal. "We could do with a little more of it in the United States."
Thatcher and Reagan were "kind of like a tag team, dynamic duo; bringing [their economic] policies to the core of the world economy," says Tobias Higbie, a history professor at UCLA, "and having a huge role in transforming these economies from largely industrial and manufacturing economies to being economies focused on finance, insurance and real estate."
And for better or worse, the legacy of the Reagan-Thatcher approach to economic change still resonates today. "They were part of a broader trend, on the part of business leaders and conservative thinkers," notes Higbie, "to create a climate in which these sort of changes would be seen as inevitable -- the idea that free markets and democracy are always intertwined, with less state intervention in the economies."
DATA PROVIDERS
Copyright © 2014 Microsoft. All rights reserved.
Fundamental company data and historical chart data provided by Morningstar Inc. Real-time index quotes and delayed quotes supplied by Morningstar Inc. Quotes delayed by up to 15 minutes, except where indicated otherwise. Fund summary, fund performance and dividend data provided by Morningstar Inc. Analyst recommendations provided by Zacks Investment Research. StockScouter data provided by Verus Analytics. IPO data provided by Hoover's Inc. Index membership data provided by Morningstar Inc.
MARKET UPDATE
[BRIEFING.COM] S&P futures vs fair value: -5.50. Nasdaq futures vs fair value: -11.80. U.S. equity futures continue holding modest losses with the S&P 500 futures down six points below fair value.

The Dollar Index began the night in the red after gaining 0.6% last week, but a steady rally off the lows has placed the index back near its flat line for the session. The dollar is currently little changed versus the yen (109.05), while the euro (1.2844) and the pound (1.6330) ... More
More Market News