Invest like Warren Buffett with this app
The new iBillionaire lets you follow market poobahs in hopes of replicating their success.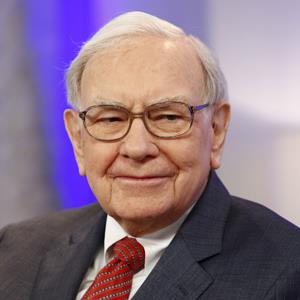 For $2 a month, you can invest just like Warren Buffett. At least, that's what the upcoming
iBillionaire
app would have you believe.
The new app, which debuts next week, will let you compare your stock holdings to those of Buffett and hedge fund managers David Einhorn and Bill Ackman, MarketWatch
reports
. You can already go online to find these billionaires' favored stock picks, since they are required to file their holdings quarterly with regulators.
But the iBillionaire app grabs that data and offers it up in easily digestible app form.
Still, you simply can't copy the big boys and expect to come out a millionaire. MarketWatch points out one huge drawback: The information will be fairly old, since these big investors don't have to file their holdings until 45 days after the end of each quarter.
Another problem is that you can't invest like billionaires unless you have a billionaire's knowledge and resources. Those include plenty of financial advisors and analysts that know every option trick in the book and can jigger deals you've never even heard of.
Buffett, for example, is
reportedly
planning to exercise $5 billion in
Goldman Sachs
(
GS
) warrants this year at a $115 strike price. The closest you're going to get to a warrant is
this song
.
But hey, iBillionaire might give you some fun talking points at cocktail parties. And it might educate you about stocks you wouldn't normally consider, such as
J.C. Penney
(
JCP
), which has fallen 48% since Ackman became the largest shareholder.

I'm sure you can get plenty of  Information on Buffet or Berkshire....By buying his books or books about him at used book stores,,,Or reading stories about Berkshire, and and the like..
Believe his daughter or other close associates, have written some books also...ie; Buffet or Berkshire.
Libraries are free...
I dunno for sure, because I've NEVER spent a dime on any of that, Warren would be proud of me.
If I happen to see a book about him at a Garage Sale for a buck, I might buy it..Maybe.??
I don't think we have any in our Library...??

Remember this, it took Warren and Charlie about 50 years to do what they have done..
It ain't easy, and takes long hours and tedious type work,,,leaning to the wheel or lever..
Buffet/Berk has some good ideas and then some bad...
Parts of their Mantra is worth trying or emulating..
Most of us do not have their resources...
But you can pick up some good ideas, if you watch, read and listen...
I strive to beat Warren and BERK or at least match their performance..YOY.
We have done it several times....I am happy with that. 
Are you sure you want to delete this comment?
DATA PROVIDERS
Copyright © 2014 Microsoft. All rights reserved.
Fundamental company data and historical chart data provided by Morningstar Inc. Real-time index quotes and delayed quotes supplied by Morningstar Inc. Quotes delayed by up to 15 minutes, except where indicated otherwise. Fund summary, fund performance and dividend data provided by Morningstar Inc. Analyst recommendations provided by Zacks Investment Research. StockScouter data provided by Verus Analytics. IPO data provided by Hoover's Inc. Index membership data provided by Morningstar Inc.
MARKET UPDATE
[BRIEFING.COM] The major averages ended the midweek session with slim gains after showing some intraday volatility in reaction to the release of the latest policy directive from the Federal Open Market Committee. The S&P 500 added 0.1%, while the relative strength among small caps sent the Russell 2000 higher by 0.3%.

Equities spent the first half of the session near their flat lines as participants stuck to the sidelines ahead of the FOMC statement, which conveyed no changes to the ... More
More Market News