Watered-down bourbon brings in the gravy for Beam
By threatening to drop Maker's Mark from 90 proof to 84 proof, the company spiked demand by 44% -- and saw more potent earnings.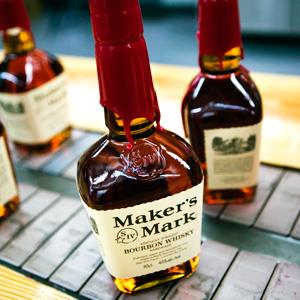 If you really, desperately want your loyal American consumers to buy something, just threaten them with change -- scary, scary change -- and watch the cash roll in.
It's a proven formula that works in the U.S. time and again. When Hostess Brands closed its doors in November, fans stockpiled Twinkies and other snacks instead of waiting for the brands' inevitable sale and revival. Even before the shootings in Aurora, Colo., and Newtown, Conn., just the off chance that President Barack Obama would seek gun control measures sent weapon sales soaring during his administration.
Less than three months after Beam Inc. (BEAM) announced plans to water down its Maker's Mark bourbon, before immediately reversing that decision, Reuters says Maker's Mark sales have soared 44%. That boosted Beam's overall sales 8% in the first quarter and cranked up its net income to $114.5 million from just $79.1 million at the same time last year.
Good job, suckers.
If you think Beam sees that bump as just serendipitous coincidence, have another Manhattan. Beam chief executive Matt Shattock gave his company a nice pat on the back in its earnings announcement after it "heard our consumers loud and clear, responded quickly and maintained Maker's at 90 proof."

Yes, Maker's makers really stepped up when that drop from 90 proof to 84 proof -- or from 45% alcohol by volume to 42% -- lasted all of a week. They did an excellent job releasing just enough lower-potency Maker's to create a hot collectibles market, but not enough to yield a full-scale bourbon panic.
They also did it without actually changing anything about Maker's other than the alcohol content. All bourbon is whiskey, but not all whiskey is bourbon, and Maker's Mark has played by the bourbon rules this whole time by aging its whiskey in charred, seasoned white oak barrels that give bourbon its trademark flavor.

The company didn't un-bourbon Maker's by switching to maple or wine barrels to vary the flavor, it didn't even mess with the chemistry as distillers like Buffalo Trace in Frankfort, Ky., and Brown-Forman (BF.A)-owned Woodford Reserve have done to tinker with their flavors a bit.
Maker's Mark just lowered the alcohol content. We realize that drove Jack Daniel's fans nuts when Brown-Forman lowered the strength of its flagship Old No. 7 black label Jack Daniel's Tennessee Whiskey from 43% alcohol by volume to 40% in 2004.

But unless your drink of choice is usually a flask of Old Crow and you notice a difference in the burn and buzz, a 6.7% reduction in alcohol content like the one Beam tried with Maker's Mark doesn't change the bourbon all that much.
Then again, try telling that to American consumers who would sue Anheuser-Busch InBev (BUD) if they thought Budweiser was a drop more watery than it's already-thin consistency suggests. Reduced alcohol volume equates to reduced value in this market, and threatening to keep drinkers lucid even a second more than is absolutely necessary can send them running for bottles of their prized, full-potency drink of choice.
DATA PROVIDERS
Copyright © 2014 Microsoft. All rights reserved.
Fundamental company data and historical chart data provided by Morningstar Inc. Real-time index quotes and delayed quotes supplied by Morningstar Inc. Quotes delayed by up to 15 minutes, except where indicated otherwise. Fund summary, fund performance and dividend data provided by Morningstar Inc. Analyst recommendations provided by Zacks Investment Research. StockScouter data provided by Verus Analytics. IPO data provided by Hoover's Inc. Index membership data provided by Morningstar Inc.
MARKET UPDATE
[BRIEFING.COM] The stock market finished the Tuesday session on the defensive after spending the entire day in a steady retreat. The S&P 500 (-0.6%) posted its third consecutive decline, while the small-cap Russell 2000 (-0.9%) slipped behind the broader market during afternoon action.

Equity indices were pressured from the start following some overnight developments that weighed on sentiment. The market tried to overcome the early weakness, but could not stage a sustained rebound, ... More
More Market News