Fiscal cliff deal seems near
President Obama and Speaker John Boehner are making compromises. Will common sense prevail over politics?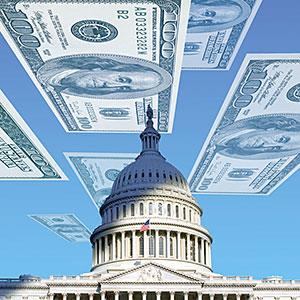 A deal seems closer Tuesday to resolve the fiscal cliff, a noxious $600 billion cocktail of draconian government spending cuts and devastating tax increases set to kick in at the end of the year. The whole thing can easily fall apart too.  Things are that tenuous.
Both President Barack Obama and House Speaker John Boehner have compromised in recent days in effort to avoid sending the economy into a new recession. Obama is willing to accept tax increases on households earning $400,000 or more, well above the $250,000 level that was a focal point of his campaign for reelection. Boehner, for his part, has accepted the idea that taxes will have to be raised on the wealthiest Americans. The fact that both sides are willing to compromise is good news, experts say.
"If I were making a bet, I would say that they would have a deal before the end of the week and certainly before the end of the year," said Dean Baker, co-director of the Center for Economic Policy Research, in an interview.
Baker's sentiments were echoed by Greg Daco, a senior economist at IHS Global Insight, who wasn't willing to predict an imminent deal but was positive nonetheless. "I feel better than I did last week in terms of a deal getting reached," he said.
One sure sign of the progress in the talks between Obama and Boehner is the grief both leaders are getting from their respective political bases. Former Clinton labor secretary Robert Reich became the latest political progressive to fret over the "obsession" in Washington over budget deficits at a time when millions of Americans remain unemployed.
"In the foreseeable future our government has to spend more rather than less," he wrote on
his blog.
"Businesses won't hire because they still don't have enough consumers to justify additional hires. So to get jobs back at the rate and scale needed, government has to be the spender of last resort."
Fiscal conservatives, such as the Alison Acosta Frazier of the Heritage Foundation, are furious with Boehner for demanding too little from Obama in terms of spending cuts and for agreeing to tax increases.
"So the two sides should reject both of these bad choices, take a breather, and pass a simple extension of all current policy -- all tax policy, all spending policy without sequestration cuts -- until the end of March," Fraser writes on Heritage's website, adding that March is when the current legislation funding the government expires.
Meanwhile, Boehner is pushing what he calls "Plan B," a bill that would raise taxes only on on those earning income above $1 million while leaving in place across-the-board spending cuts that both parties want to avoid. The White House, not surprisingly, is opposed to this idea.  

Rhetorical bluster aside, the fact that both sides are wiling to compromise indicates they are taking the task ahead seriously.  The sad part is the fact that people are making a big deal of the fact that Democrats and Republicans are coming together for the common good.
After all, isn't that what they were elected to do?
--Follow Jonathan Berr on Twitter @jdberr. 
More from Money Now
DATA PROVIDERS
Copyright © 2014 Microsoft. All rights reserved.
Fundamental company data and historical chart data provided by Morningstar Inc. Real-time index quotes and delayed quotes supplied by Morningstar Inc. Quotes delayed by up to 15 minutes, except where indicated otherwise. Fund summary, fund performance and dividend data provided by Morningstar Inc. Analyst recommendations provided by Zacks Investment Research. StockScouter data provided by Verus Analytics. IPO data provided by Hoover's Inc. Index membership data provided by Morningstar Inc.
MARKET UPDATE
[BRIEFING.COM] Equity indices continue holding modest gains with participants awaiting the public debut of Alibaba.com (BABA), which will represent the biggest initial public offering to date. According to recent indications, the stock is expected to open in the $90-91 range after pricing at $68/share.

On a separate note, the Dollar Index (+0.4%) hovers near its best level of the session, which also represents the high water mark from June 2013. The greenback holds gains against ... More
More Market News