Will Obamacare force more smokers to quit?
The Affordable Care Act will impose large insurance surcharges on tobacco users. But people in smoking-cessation programs will get a break.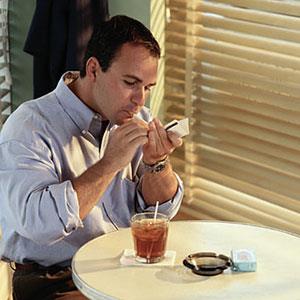 Obamacare bans higher premiums or the denial of health coverage because of pre-existing conditions. But one group will still find themselves penalized: smokers.
The new measures in the Affordable Care Act, which goes into effect next January, would allow health insurance companies to charge tobacco users up to 50% more for individual policies. And the costs of that rate hike would come entirely out of smokers' pockets.
A recent Associated Press report notes those surcharges, nearly $4,250 a year on top of premiums for a 55-year-old smoker and close to $5,100 for a 60-year-old, could impose a heavy financial burden on individuals with a tobacco habit "at a time in life when smoking-related illnesses tend to emerge."
The ACA penalties could give added incentive to companies looking to sidestep smokers as potential employees.

Smoker protection laws already exist in 29 states and the District of Columbia, but that might be changing. Oklahoma, for example, is considering a bill that would repeal those laws. "These are the kinds of protections you'd think we have for race and gender, not smokers," State Sen. David Holt told KFOR-TV. "Just as a smoker has made a choice, employers ought to be able to make choices too."
Nearly 20% of people in the United States smoke. The Centers for Disease Control and Prevention says smoking also kills more than 440,000 people in the U.S. annually while costing the economy more than $193 billion each year in lost productivity and health care expenditures. And it says secondhand smoke costs -- from healthcare expenditures as well as illness and premature death -- amount to another $10 billion. 

Analysts say those statistics, along with the ACA penalties, are causing the insurance industry to look even closer at smokers.
"If you are an insurer and there is a group of smokers you don't want in your pool, the ones you really don't want are the ones who have been smoking for 20 or 30 years," Karen Pollitz, insurance market expert with the Kaiser Family Foundation, told AP. "You would have the flexibility to discourage them."
But there is optimism the ACA measures could also help more smokers kick the habit. The CDC says more than two-thirds of all smokers want to quit completely. And the American Lung Association notes all new private insurance plans under the ACA must cover treatments to help smokers quit smoking.

And as the Washington Post's Wonkblog points out,, ACA wouldn't allow insurers to apply the full penalty against a smoker enrolled in a quit-smoking program. 

"We don't want to create barriers for people to get health care coverage," California state Assemblyman Richard Pan told AP. "We want people who are smoking to get smoking cessation treatment."
More on moneyNOW
DATA PROVIDERS
Copyright © 2014 Microsoft. All rights reserved.
Fundamental company data and historical chart data provided by Morningstar Inc. Real-time index quotes and delayed quotes supplied by Morningstar Inc. Quotes delayed by up to 15 minutes, except where indicated otherwise. Fund summary, fund performance and dividend data provided by Morningstar Inc. Analyst recommendations provided by Zacks Investment Research. StockScouter data provided by Verus Analytics. IPO data provided by Hoover's Inc. Index membership data provided by Morningstar Inc.
MARKET UPDATE
[BRIEFING.COM] The stock market finished the Tuesday session on the defensive after spending the entire day in a steady retreat. The S&P 500 (-0.6%) posted its third consecutive decline, while the small-cap Russell 2000 (-0.9%) slipped behind the broader market during afternoon action.

Equity indices were pressured from the start following some overnight developments that weighed on sentiment. The market tried to overcome the early weakness, but could not stage a sustained rebound, ... More
More Market News