Bazooka Joe gets downsized
The eyepatch-wearing mascot's comic strip gets booted from the famous bubble gum as Bazooka tries to win new fans.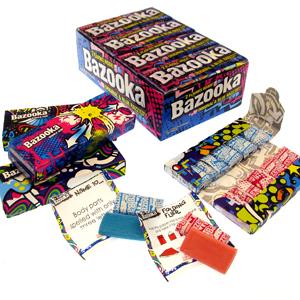 Say goodbye to the Bazooka Joe comic. We'll miss those goofy jokes wrapped around the rock-hard Bazooka bubble gum from our childhoods.
Bazooka Joe's comic strip is leaving bubble gum land, shuttered into semi-retirement as kids nowadays have little recognition for the character or his humor. Bazooka bubble gum is in the midst of a massive overhaul, and will now come in redesigned packaging that looks modern and interesting and not at all like the simple red, white and blue wrappers of the past.
Bazooka's owner, Topps, is trying to figure out what to do now that U.S. sales of bubble gum have popped. Sales are likely dropping to $207 million this year from $332 million in 2007, The New York Times
reports
. For Bazooka, the numbers are extremely grim: Sales are pegged at just $8.8 million this year, a 48% drop from 2007.
"What we're trying to do with the relaunch is to make the brand relevant again to today's kids," Bazooka executive Anthony Trani told the Times.
In these times, that means making the gum bigger -- from 4.5 grams to 6 grams -- and giving it a new blue raspberry flavor in addition to the original flavor. And it means making the package much splashier, with bright pink, blue, neon yellow and white coloring. The new package will contain 10 pieces instead of single packs, the Times reports.
Bazooka hasn't advertised in five years, and as a result, practically no young person remembers the eyepatch-wearing Bazooka Joe, his cohort Mort, or the spectrum of corny zingers they brought to the wrappers.
"Last night I dreamed I was eating a giant marshmallow!" Mort said to Joe in one
comic
. "So?" Joe asked. "So when I woke up this morning. . .my pillow was gone!" Mort responded. Ta-dum-dum.
Only 7% of children age 6 to 12 know who Bazooka Joe is, the Times reports. Now, Bazooka wrappers will have brainteasers, craft ideas and codes that work on the BazookaJoe.com website.
Bazooka Joe and Mort can still be found on the new wrappers and on the Bazooka website, but the comic-strip insert that was home to their jokes will be gone.
More from Money Now
MARKET UPDATE
[BRIEFING.COM] Stocks ended modestly higher as the S&P 500 climbed 0.2%, and the Dow added 0.4% to register its 19th consecutive Tuesday of gains.

The major averages saw little change during morning action, but afternoon buying interest helped lift the indices to session highs. Most cyclical sectors (with the exception of materials and technology) finished among the leaders, but the defensively-geared health care sector settled atop the leaderboard as biotechnology outperformed. ... More
More Market News
TOP STOCKS
S&P 500 forecast to hit 2,100 by 2015
As the stock market reaches new highs, Goldman Sachs sees more gains ahead. Fueling the market: An improving economy, growing dividends and low interest rates.