Mike's Hard Lemonade goes after male drinkers
Despite growing sales across gender lines, the maker of the flavored malt liquor is beefing up its ad budget to attract beer drinking dudes.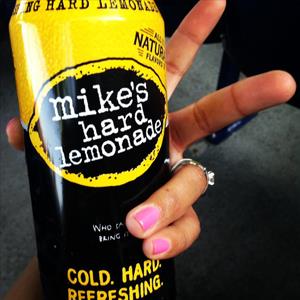 Mike's Hard Lemonade has grown exponentially over the last few years and has dipped into a demographic beer brewers can only dream of.
So why is it messing with the formula and trying to bro' up its image? Ask Martin Landau, the 84-year-old "Ed Wood" and "Crimes and Misdemeanors" star who takes to a bowling alley for the the brand's "never not a good time" ad campaign. Ask Coolio, the "Fantastic Voyage" and "Gangster's Paradise" '90s rapper who also scores a spot in the ads.
Despite sales of nearly 1.5 million barrels in 2012 that put Mike's producer Mark Anthony Group among the Top 10 brewers in the country, and growth that increased those sales 5.4% from 2011 and 16.2% from the year before, Mike's marketing folks want to take the brand even broader. In a less coded explanation, they want to appear less girly and attract more dudes.
"We're looking at a traditional beer consumer, which is a natural fit for Mike's," Sanjiv Gajiwala, the director of marketing for Mike's Hard Lemonade, told The New York Times.
Kind of. Mike's falls into a flavored malt beverage category that's a very specific niche. Anheuser-Busch InBev's (BUD) fast-growing Bud Light Lime-A-Rita line and Smirnoff Ice fit the bill. Traditional hard cider does not. Revenue in that category soared 20.2% in the year ended April 21, which beats the 1.7% growth of beer, the 5.6% growth of wine and even the 17.6% growth of craft beer last year. Mike's is by far the biggest player in that category, garnering a 30.1% share.
The problem, as the folks at Mike's see it, is that guys don't think much of fruity malt beverages. Among men, 21% would not want to be seen holding such a beverage, compared with 11% of women, according to a poll by market research company Mintel. Beverages like Mike's are also featured on Askmen.com's list of the top 10 drinks real men don't order, which also includes fuzzy navels, appletinis and cosmopolitans.
What male drinkers say they drink and what they actually drink tend to vary widely, however. As long ago as 2005, Mike's Hard Lemonade founder Anthony van Mandl told The Seattle Times that men made up 60% of Mike's buyers. Men also make up 50% of the hard cider market that grew nearly 85% last year thanks to cider makers like Boston Beer Company's (SAM) Angry Orchard, which increased buying across gender lines, according to Symphony IRI.
Those numbers, however, aren't making the folks at Mike's -- whose bottles and cans of alcoholic punch feature a fist as the logo -- feel any more masculine. To cope with those feelings of inadequacy, Mike's Hard Lemonade will spend an estimated $15 million to $20 million its new campaign. That's a whole lot more than the $13.3 million it spent on advertising in all of 2012, according to Kantar Media, a unit of WPP. Directed at men in the coveted 25-to-35 demographic (many of whom have never heard of Martin Landau) and with men in their lead roles, the commercials will appear on such male-skewing networks as ESPN (DIS), NBC Sports Network (CMCSA) and Comedy Central (VIA).
At 14 years old, Mike's is still a little young to be having a mid-life crisis. With the brand already successfully expanding among a broader swath of the population than the beer brands it envies, however, Mike's is about to pay a needlessly high price for its male insecurities.
DATA PROVIDERS
Copyright © 2014 Microsoft. All rights reserved.
Fundamental company data and historical chart data provided by Morningstar Inc. Real-time index quotes and delayed quotes supplied by Morningstar Inc. Quotes delayed by up to 15 minutes, except where indicated otherwise. Fund summary, fund performance and dividend data provided by Morningstar Inc. Analyst recommendations provided by Zacks Investment Research. StockScouter data provided by Verus Analytics. IPO data provided by Hoover's Inc. Index membership data provided by Morningstar Inc.
MARKET UPDATE
[BRIEFING.COM] Equity indices remain near their flat lines as heavily-weighted sectors continue trading in mixed fashion.

At this juncture, the industrial sector (-0.6%) is the weakest performer among cyclical groups with defense contractors pressuring the space. The PHLX Defense Index is lower by 1.1% with just about every component trading lower. Including today's decline, the Defense Index is now down 2.4% for the week and off 0.7% so far in September. On the upside, General ... More
More Market News