Waitress fired over pastor's Applebee's receipt
The company is critical of both sides after an employee posts a photo of a customer's message regarding a tip: 'I give God 10%. Why do you get 18?'
What would Jesus do at Applebee's? Call it a hunch, but we're guessing the same guy who turned scraps of bread and bait into a full-on feast and got a party going by turning water into wine wouldn't stiff the waitress.
A server at an Applebee's near St. Louis has been fired, according to Consumerist, after posting a receipt on Reddit from another waitress's customer who crossed out an 18% gratuity and wrote in "I give God 10%. Why do you get 18?" while identifying herself as a pastor. The amount of the disputed tip was $6.29.
DineEquity
(
DINE
)-owned Applebees, meanwhile, issued a statement
on Facebook
that both justified the firing while condemning the customer's message. As Applebee's spokesman Dan Smith explained to
Huffington Post
after the company fired the employee -- identified as Chelsea Welch in news reports -- exposing guests' personal information all over the Internet is a big no-no and grounds for immediate dismissal.
Fair, especially given that a little photo editing would have kept that info private. But the note left by the customer, identified by The Smoking Gun as St. Louis pastor Alois Bell, represents a fundamental misunderstanding of both tipping policy and the Christian act of tithing.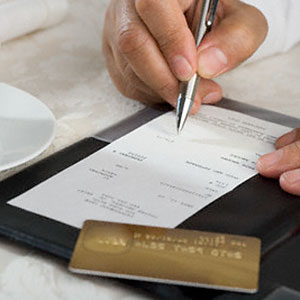 According to company policy stated right at the bottom of the menu, a gratuity of 18% is automatically added for parties of eight or more. Bell's check was part of a party of nearly 20, according to the employee.
Bell, a pastor at the Truth in the Word Deliverance Ministries church in St. Louis, says her interpretation of the gratuity was a "lapse in judgment that has been blown out of proportion" and claims she left a $6 cash tip on top of what was originally charged. However, her spur-of-the-moment logic completely left out that the tithe that members of a church take out of their income goes not "to God" but to charitable organizations, the church organization itself and, often enough, the pastor to cover the living expenses of a meager existence required by their faith.
This isn't Chelsea's get-out-of-jail-free​ card for putting Bell's information and signature in Reddit's Atheist subcategory because "I thought other users would find it entertaining," but it doesn't make Bell's ministry look too great as a result either. She seems to know that all too well.
"My heart is really broken," she told The Smoking Gun. "I've brought embarrassment to my church and ministry."
More on moneyNOW
DATA PROVIDERS
Copyright © 2014 Microsoft. All rights reserved.
Fundamental company data and historical chart data provided by Morningstar Inc. Real-time index quotes and delayed quotes supplied by Morningstar Inc. Quotes delayed by up to 15 minutes, except where indicated otherwise. Fund summary, fund performance and dividend data provided by Morningstar Inc. Analyst recommendations provided by Zacks Investment Research. StockScouter data provided by Verus Analytics. IPO data provided by Hoover's Inc. Index membership data provided by Morningstar Inc.
MARKET UPDATE
[BRIEFING.COM] Equity indices remain near their flat lines as heavily-weighted sectors continue trading in mixed fashion.

At this juncture, the industrial sector (-0.6%) is the weakest performer among cyclical groups with defense contractors pressuring the space. The PHLX Defense Index is lower by 1.1% with just about every component trading lower. Including today's decline, the Defense Index is now down 2.4% for the week and off 0.7% so far in September. On the upside, General ... More
More Market News