This rally has the bears feeling sheepish
The blogosphere is full of jeering about all the financial pundits who were recently preaching that gloom and doom were upon the markets.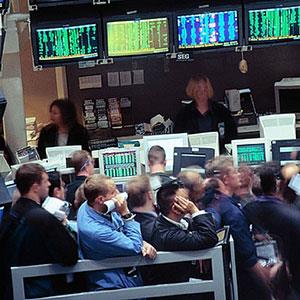 There's a saying that only economists and weather forecasters can be wrong 50% of the time and still keep their jobs. Perhaps we can add Wall Street analysts to that group.
Now that the Dow has punched its way into record territory, the blogosphere is having a field day -- a snark-fest, if you will -- as it looks back at the all the industry experts, commentators and pundits who were predicting a full-on bear market.
As of Monday, according to The Associated Press, the Dow Jones Industrial Average was up 7.8% for 2013 -- while the S&P 500 was up 6.9%. And some folks in finance and the media are calling this the Idiot-Maker Rally because it has made a lot of Wall Street analysts look awfully foolish.
Business Insider has a collection of quotes from various financial gurus who, while they may be right later on, have gotten it wrong for the moment.

Here's billionaire financier George Soros from June of 2010, when the Dow had come off the bottom from its 2009 lows. "We have just entered Act II," he said at the time. "The collapse of the financial system as we know it is real and the crisis is far from over...1930's style budget deficits are essential as counter-cyclical policies, yet many governments are now moving to reduce their budget deficits under pressure from financial markets. This is liable to push the global economy into a double-dip."
And then there's economist and financial writer John Mauldin in August of 2011, predicting the U.S. would be back in recession within the next 12 months, with share prices falling as much as 40%. And just one year later Swiss investor Marc Faber, publisher of the appropriately named GloomBoomDoom website, predicted a bear market for the S&P 500 after the 2012 presidential elections.
Left-leaning Media Matters, a site that's no friend of Fox News, also has clips from that network and other media outlets that linked Mitt Romney's domination of President Barack Obama the night before, during the first presidential debate in October 2012, to the next day's higher numbers on Wall Street.
Then there's this gem from The Wall Street Journal's Political Diary, dated Nov. 6 -- election day -- talking about how an Obama defeat would spark a rally:
"One reason to suspect a stock market bounce from a Romney victory is that this would likely mean steering clear of the 2013 tax cliff that Obama wants to shove the nation over. The higher investment taxes on capital gains and dividends, all else equal, could depress stocks, and some of that is already priced into stock values.... Because of those higher tax rates, economist Arthur Laffer has advised his clients that an Obama victory could bring a double dip recession that would be a killer for business profits and stocks."
It looks like investors now think otherwise.

DATA PROVIDERS
Copyright © 2014 Microsoft. All rights reserved.
Fundamental company data and historical chart data provided by Morningstar Inc. Real-time index quotes and delayed quotes supplied by Morningstar Inc. Quotes delayed by up to 15 minutes, except where indicated otherwise. Fund summary, fund performance and dividend data provided by Morningstar Inc. Analyst recommendations provided by Zacks Investment Research. StockScouter data provided by Verus Analytics. IPO data provided by Hoover's Inc. Index membership data provided by Morningstar Inc.
MARKET UPDATE
[BRIEFING.COM] The stock market finished an upbeat week on a mixed note. The S&P 500 shed less than a point, ending the week higher by 1.3%, while the Dow Jones Industrial Average (+0.1%) cemented a 1.7% advance for the week. High-beta names underperformed, which weighed on the Nasdaq Composite (-0.3%) and the Russell 2000 (-1.3%).

Equity indices displayed strength in the early going with the S&P 500 tagging the 2,019 level during the opening 30 minutes of the action. However, ... More
More Market News