Are farmers just refusing to hire Americans?
In several lawsuits, Georgia laborers are claiming that onion growers exhibit racial bias -- by creating harsh conditions to justify their use of Mexican guest workers over US citizens.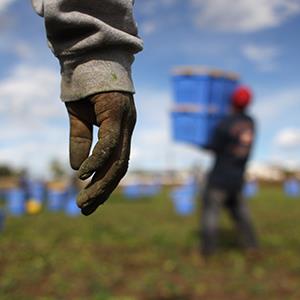 Are there jobs Americans won't do, or are there just jobs that employers make so undesirable that American workers don't want them?
Think about that the next time you slice up a Vidalia onion. The New York Times framed the current immigration debate in the story of onion pickers in Vidalia and Moultrie, Ga. The laborers, mostly black, say they want to work the fields there but are blocked by Mexican workers. 
Farmers say that with local unemployment about 10% and the process for hiring foreign workers proving difficult -- guest workers have to be imported and housed and require extensive paperwork -- they'd prefer to hire local but can't get local labor to keep up the pace or stick around. The laborers contend that they are illegally discouraged from applying for work, crowded into disgusting camps, driven without a break and cheated of their wages.
Last month, Vidalia residents filed a federal lawsuit against a large grower of onions, Stanley Farms, alleging that it mistreated them and paid them less than it paid Mexican workers. Southern Valley farm in Moultrie was also sued by American workers, who said they had been fired because of their race and national origin, given less-desirable jobs and provided with fewer work opportunities than Mexican guest workers. Under a consent decree with the Equal Employment Opportunity Commission, the farm agreed to make certain changes.
Neither the locals nor the farmers argue about the guest workers' efficiency. What is in question are the conditions those workers must endure to maximize that efficiency. They often work into the night seven days a week just to increase their pay.
"When Jose gets on the bus to come here from Mexico he is committed to the work," Jon Schwalls, director of operations at Southern Valley, told The Times. "It's like going into the military. He leaves his family at home. The work is hard, but he's ready. A domestic wants to know: What's the pay? What are the conditions? In these communities, I am sorry to say, there are no fathers at home, no role models for hard work. They want rewards without input."
That sounds just a bit racist to folks at the Southern Poverty Law Center in Montgomery, Ala., which argues that farm work would attract more Americans at a reasonable cost and that farmers should not be exempt from paying it. As wages stagnated and conditions worsened, a farm worker pool that was two-thirds American in the 1970s is made up of a vast majority of foreign workers today.
Those numbers may only expand, too, as Congress attempts to bring legal status to the nation's 11 million unauthorized immigrants and expand the guest worker program. Right now, proposals include include increasing the number and category of temporary workers in the dairy and construction industries, and increasing their stays from a few months to three years.
DATA PROVIDERS
Copyright © 2014 Microsoft. All rights reserved.
Fundamental company data and historical chart data provided by Morningstar Inc. Real-time index quotes and delayed quotes supplied by Morningstar Inc. Quotes delayed by up to 15 minutes, except where indicated otherwise. Fund summary, fund performance and dividend data provided by Morningstar Inc. Analyst recommendations provided by Zacks Investment Research. StockScouter data provided by Verus Analytics. IPO data provided by Hoover's Inc. Index membership data provided by Morningstar Inc.
MARKET UPDATE
[BRIEFING.COM] The stock market began the new week on a cautious note. The S&P 500 lost 0.3%, but managed to erase more than half of its opening decline. Thanks to the rebound, the benchmark index reclaimed its 50-day moving average (1976.78) after slipping below that level in the morning.

Equities slumped at the open amid a couple global developments that dampened the overall risk appetite. Continued student protests in Hong Kong and a potential response from China weighed on the ... More
More Market News