Rush-hour traffic costs you $818 a year
A new study finds that the lengthy American commute is draining precious gas money and time.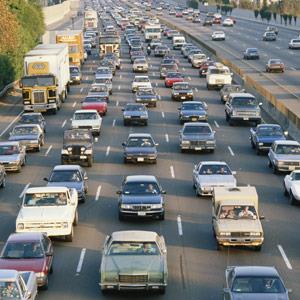 That lengthy commute is not only chipping away at your patience, sanity and empathy for your fellow human beings. It's costing you money.
Researchers at the Texas A&M Transportation Institute released the results of their 2012 Urban Mobility Report and found that the average American commuter wasted $818 in time and gas sitting in traffic in 2011. That's $121 billion total, which is up $1 billion from 2010 but still shy of the $128 billion wasted in pre-recession 2005.
Though the researchers warn that recent improvements may be tied to the economic downturn, there is other evidence that telecommuting, online shopping, a return to urban living and enhanced public transportation may be whittling down the average American commute. In U.S. cities like Washington, D.C., where traffic requires drivers to set aside two hours for a 20-minute trip, relief can't come soon enough.
The nation's capital doesn't even have the worst commute in the U.S. That particular honor belongs to Los Angeles, where a 30-minute trip requires more than 41 minutes of planning, on average. Honolulu comes in a close second, followed by New York; Washington, D.C.; Austin, Texas; Boston; Portland, Ore.; Denver; Dallas; Seattle; Philadelphia and Houston.
That's just how long the trip should take, on average. According to the research, Americans set aside an average of an hour for a trip that's supposed to take 20 minutes. In Los Angeles, for example, commuters have to set aside an hour and 40 minutes for their 20-minute ride. Even smaller metro areas like Portland and Austin require an hour and 25 minutes to get to work on time on a 20-minute stretch of road. Think it's better in Provo, Utah, just because there are only 500,000 people or so kicking around? A 20-minute drive there still requires nearly an hour and a half of planning time.
All of those added road hours wasted 2.9 billion gallons of fuel in 2011, or 19 gallons per commuter. Meanwhile, it also launched 59 billion pounds of carbon dioxide into the atmosphere. While researchers say a combination of road improvements and enhanced public transportation saved more than $29 billion in additional congestion costs in 2011, there's still a whole lot of work to do.
In the meantime, if commuters want to get to work and back in a hurry and don't want to put the hurt on either their wallets or the environment, might we suggest Pensacola, Fla., as an option? While it may not have the glut of jobs available in other cities, its commute only requires an extra nine minutes for a 30-minute trip.  
More on moneyNOW

Anyone that can do their work from home should stay there, everyday, and allow everyone that actually needs to be on the road to have a better commuting experience.  The problem is corporations want you to be in the office, even if you don't need to be.  Unfortunately a perception problem that is costing us in so many ways that you could write a book on it.

Exactly but incomplete, we need to add the time wasted in the toll stops, the uncoordinated traficc lights, and mostly a lot of roads in bad conditions given to drivers a slow motion and subsecuent result in more gas and time wasted, and of course do not forget the time wasted in looking for parking when in comercial areas.
Are you sure you want to delete this comment?
DATA PROVIDERS
Copyright © 2014 Microsoft. All rights reserved.
Fundamental company data and historical chart data provided by Morningstar Inc. Real-time index quotes and delayed quotes supplied by Morningstar Inc. Quotes delayed by up to 15 minutes, except where indicated otherwise. Fund summary, fund performance and dividend data provided by Morningstar Inc. Analyst recommendations provided by Zacks Investment Research. StockScouter data provided by Verus Analytics. IPO data provided by Hoover's Inc. Index membership data provided by Morningstar Inc.
MARKET UPDATE
[BRIEFING.COM] The S&P 500 (-0.2%) hovers near its session low with one hour remaining in the trading day. Meanwhile, the price-weighted Dow Jones Industrial Average (-0.1%) continues outperforming as 20 index members display losses, while the remaining ten components sport gains.

The index has received a measure of support from Boeing (BA 130.06, +2.51), which trades higher by 2.0% after beating on earnings and revenue. Elsewhere, Procter & Gamble (PG 80.31, -0.30) ... More
More Market News
TOP STOCKS
3 funds for hardcore contrarians
These ETFs are benchmarked to extremely out-of-favor foreign markets that most investors would quickly pass over. Whoever said being a contrarian was easy?