White Castle woos Valentine's Day diners
The hamburger joint goes reservations-only on Feb. 14, rolling out table service, keepsake photos and candles.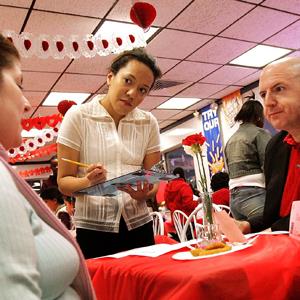 White Castle doesn't want the fancy restaurants to have all the fun on Valentine's Day. The hamburger chain is trying to grab a portion of the estimated $3.5 billion spent by couples going out to eat on Feb. 14. 

While it may seem far-fetched that couples would celebrate their romance at a fast-food restaurant, reservations "fill up fast," vice president Jamie Richardson said in a statement. Nearly 390 White Castle locations will be courting diners this Valentine's Day after a few regions started the tradition more than two decades ago, the company tells MSN Money.
Reservations? Yes, you won't be able to eat dinner at a "Love Castle" on Feb. 14 unless you've already booked ahead. 
Other lowbrow restaurants have cottoned onto the idea. Last year, Waffle House also offered special romantic dinners on Valentine's Day, according to Time.com.

White Castle and Waffle House may be on to something: a desire for diners to spend less when they go out to eat.
Restaurant customers ordered fewer food items in 2012, according to a research from GuestMetrics. Some diners last year skipped out on pricey entrees and desserts, and instead ordered more appetizers, which tend to be lower priced, the study found.
The White Castle Valentine's meal will have no problem pleasing price-conscious Romeos and Juliets. The chain is offering a $10 "share-a-meal," which the company says is "perfect for a romantic evening with a special someone or a loving family."
"Love Castles" are decked out with plastic red tablecloths, flowers and candles, according to photographs of past Valentine's day celebrations. 
White Castle says it also gives customers a complimentary digital photo, which will be posted on White Castle's Facebook page after March 1, and keepsake menus.
Participating restaurants range in location from Chicago to Nashville. White Castle, based in Columbus, Ohio, owns and operates about 400 restaurants. 
More on moneyNOW

I did a Reservation last year I was kind of Iffy about the whole "WHITE CASTLE" valentines day dinner Like... umm, wait,  should i my hubby is gonna say WHAT! Any Hoo... it turned out to be Fabulous!!!!!!!!! the decorations were absolutely stunning! the service was Excellent! they even had the Red Bulbs going on we were soooo Impressed. my kids we're just Amazed! yes they are my Valentines'Too :-)  the menus we're heart shaped, soft music playing  the Atmosphere was just WOW! my hubby called his entire family he goes... Ya'll would never guess where my wife took me to for dinner tonight! LOL so... i'm gonna do it again this year Different Location though. so save your Moolah Hunnies and get to white castle!! this February 14th you'll leave Satisfied, and most of all NOT BROKE!

    "White Castle says it also gives customers a complimentary digital photo, which will be posted on White Castle's Facebook page after March 1, and keepsake menus."
      LOL.........a photo and a keepsake menu?  Just keeps getting better and better. Yes, no doubt this Valentine Days dinner will be memorable and who will ever forget eating the mystery charred animal flesh on a dinner roll.  Then after dinner go for a romantic stroll though your local Wal-Mart and pick her up something special from the clearance aisle.
     I have a little more respect and admiration for my wife then to take her to White Castle for Valentines Day.  You go to White Castle at 3am when you're its the only place open not for a romantic dinner.  But hey to each their own.
Are you sure you want to delete this comment?
DATA PROVIDERS
Copyright © 2014 Microsoft. All rights reserved.
Fundamental company data and historical chart data provided by Morningstar Inc. Real-time index quotes and delayed quotes supplied by Morningstar Inc. Quotes delayed by up to 15 minutes, except where indicated otherwise. Fund summary, fund performance and dividend data provided by Morningstar Inc. Analyst recommendations provided by Zacks Investment Research. StockScouter data provided by Verus Analytics. IPO data provided by Hoover's Inc. Index membership data provided by Morningstar Inc.
MARKET UPDATE
[BRIEFING.COM] The stock market finished the Thursday session on a higher note with the S&P 500 climbing 0.5%. The benchmark index registered an early high within the first 90 minutes and inched to a new session best during the final hour of the action.

Equities rallied out of the gate with the financial sector (+1.1%) providing noteworthy support for the second day in a row. The growth-oriented sector extended its September gain to 1.9% versus a more modest uptick of 0.4% for the ... More
More Market News