Hunting industry aims a boycott at Colorado
The state's new firearms regulations have some angry gun-rights advocates calling on supporters to hunt elsewhere.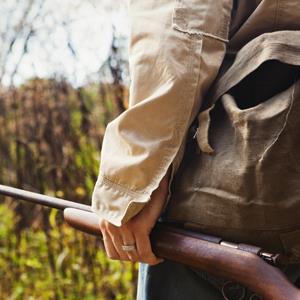 Supported by gun-rights advocates, the hunting industry is targeting Colorado for an economic boycott because of the state's new gun laws.
"Do not spend money here, and tell the state why you don't," Colorado resident Michael Bane told hunting enthusiasts on the nationally syndicated Gun Talk Radio program. "If you cancel a hunting trip here, send a note to the Colorado Division of Wildlife."
Bane is an independent producer and host of several programs on cable TV's Outdoor Channel (OUTD). He says he'll no longer film his programs in Colorado after last week's enactment of new state laws that, among other regulations, ban large-capacity ammunition magazines and expand background checks for gun purchases.
The Outdoor Channel says Bane's views do not necessarily reflect the network's. But the blogosphere is full of support for a boycott, and some hunting outfitters say they're starting to see cancellations as a result.
"There's a united front of sportsmen that are tired of having their freedoms and liberties and fundamental rights taken away from them," Chris Jurney, a hunting guide and vice president of the Colorado Outfitters Association, told the Colorado Springs Gazette. "That kind of unity among sportsmen is going to be big and unfortunately for those of us who live here, we're going to suffer the consequences of this misguided legislation."
Some gun and hunting shops in Colorado are also concerned. "Small mountain towns and rural towns in this state are going to lose a lot of money, because you're not going to see the number of out-of-state hunters coming here," Jeff Lepp, the owner of Specialty Sports in Colorado Springs, told the Gazette. "Other states are going to see a growth."
The Washington Times says Colorado's hunting industry is worth $1.8 billion, and it notes that more than 60% of the state's hunting revenue comes from tourists, who pay far more than residents to hunt.
This isn't the first threat of economic action against the Centennial State over the new gun laws, some of the strictest in the Western U.S. Earlier this month, a major manufacturer of gun ammunition magazines that's based in Colorado warned it will leave the state if the gun-control measures become law.
Scott Willoughby, who writes the Denver Post's Outdoors column, believes support for a Colorado hunting boycott will be fleeting, at best. But he also warns of unintended economic consequences such a boycott would have on "blameless bystanders" in the state's rural communities.

"The wait staff at the local diner, the owner of the bait shop or sporting goods store, the guides and gas station attendants, many of them law-abiding gun owners and sportsmen themselves," he wrote recently, "are the eventual beneficiaries of the state's multibillion-dollar hunting and fishing industry."
DATA PROVIDERS
Copyright © 2014 Microsoft. All rights reserved.
Fundamental company data and historical chart data provided by Morningstar Inc. Real-time index quotes and delayed quotes supplied by Morningstar Inc. Quotes delayed by up to 15 minutes, except where indicated otherwise. Fund summary, fund performance and dividend data provided by Morningstar Inc. Analyst recommendations provided by Zacks Investment Research. StockScouter data provided by Verus Analytics. IPO data provided by Hoover's Inc. Index membership data provided by Morningstar Inc.
MARKET UPDATE
[BRIEFING.COM] S&P futures vs fair value: -5.50. Nasdaq futures vs fair value: -13.00. Nasdaq at... NYSE Adv/Dec 0/0... Nasdaq Adv/Dec 0/0.
More Market News