CEO pay is more out of whack than ever
Top execs in the US earn an average of 204 times more than their rank-and-file employees -- and that's a conservative estimate.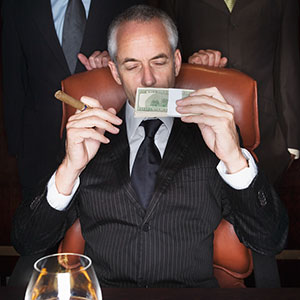 What does it take to get business-minded Bloomberg and the employee-aligned AFL-CIO to agree on something? An exponential increase in executive pay, apparently.
Bloomberg reported Monday that the ratio of CEO-to-worker pay has increased 1,000% since 1950. Today's Fortune 500 CEOs make 204 times more than regular workers on average, up from 120-to-1 in 2000, 42-to-1 in 1980 and 20-to-1 in 1950. The AFL-CIO has only a minor quibble with that ratio, insisting that the 2012 figure is closer to 354-to-1.
In each case, both Bloomberg and the unions agree that the balance of executive pay to worker compensation can be far more skewed, depending on which company is under the microscope. Bloomberg notes that recently departed J.C. Penney (JCP) CEO Ron Johnson was given a package worth 1,795 times the average wages and benefits of a U.S. department store worker when he was hired in 2011.
The workers who held the nearly 43,000 J.C. Penney jobs cut under Johnson's watch last year made roughly $8.30 an hour.
This isn't exactly an anomaly in the retail world, either. Salary information website PayScale determined in March that Wal-Mart (WMT) CEO Mike Duke makes 1,034 times more money than the average Wal-Mart worker. Target (TGT) chief Gregg Steinhafel brings in 597 times what the average Target employee makes.
Elsewhere, former McDonald's (MCD) CEO Jim Skinner ended his tenure last year making 434 times more than the average counter employee. Oh, and Disney (DIS) head Bob Iger, whose company is fighting to avoid giving its Florida employees sick days, makes 557 times more than the workers Walt Disney World is not so subtly telling to tough it out.
As The Guardian noted, American CEOs saw their pay jump 15% in 2011 after climbing 28% the year before. Not only did worker wages drop 2% in 2011, according to the Labor Department, but the Economic Policy Institute says CEO pay leaped 725% from 1978 to 2011 while worker pay rose just 5.7%. As The Huffington Post points out, CEOs continue to see their pay climb at three times the rate of those they employ.
The Dodd-Frank financial reform law passed nearly three years ago included a provision requiring public companies to disclose their CEO-to-worker pay ratios. While some of the above information dribbled out, Bloomberg notes that the Washington-based HR Policy Association lobbying group has been pushing back against such disclosures. While unions insist it's a vital step toward fixing pay disparity and business groups note that it's information that shareholders of public companies should have access to, HR Policy's board of directors disagrees.
Of course, that board includes companies with CEO pay ratios in the top 20% of S&P 500 companies. General Electric (GE), with its 491-to-1 ratio, and AT&T (T), at 339-to-1, have seats on the group's board. When you've just shoveled a whole lot of money into your vault, why just hand your investors and employees the keys?
DATA PROVIDERS
Copyright © 2014 Microsoft. All rights reserved.
Fundamental company data and historical chart data provided by Morningstar Inc. Real-time index quotes and delayed quotes supplied by Morningstar Inc. Quotes delayed by up to 15 minutes, except where indicated otherwise. Fund summary, fund performance and dividend data provided by Morningstar Inc. Analyst recommendations provided by Zacks Investment Research. StockScouter data provided by Verus Analytics. IPO data provided by Hoover's Inc. Index membership data provided by Morningstar Inc.
MARKET UPDATE
[BRIEFING.COM] The stock market finished the Tuesday session on the defensive after spending the entire day in a steady retreat. The S&P 500 (-0.6%) posted its third consecutive decline, while the small-cap Russell 2000 (-0.9%) slipped behind the broader market during afternoon action.

Equity indices were pressured from the start following some overnight developments that weighed on sentiment. The market tried to overcome the early weakness, but could not stage a sustained rebound, ... More
More Market News