America's most common job: Retail salesperson
4.3 million people don a big-box store vest -- and make the $25,000 that goes along with it, if they're lucky enough to land the gig.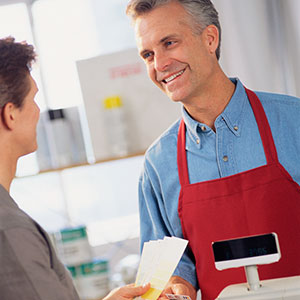 If you're looking for the face of American labor, head down to your nearest big-box retailer and look for a person in a brightly colored vest.
The Bureau of Labor Statistics announced Friday that as of last May, the American retail salespeople at Wal-Mart (WMT), Target (TGT), Home Depot (HD), Lowe's (LOW) and elsewhere have the most common job in the country. Nationwide, 4.3 million retail salespeople are making an average of $25,000, or well below the annual mean wage of $45,790.
As The Atlantic astutely notes, America has more retail salespeople than Kentucky has citizens. It's also enough retail sales jobs to employ every man, woman and child in Wyoming, Vermont, Washington, D.C., North Dakota, Alaska and South Dakota combined. That's not necessarily surprising in an economy in which roughly 65% of the 5.7 million jobs added since the recession have been low wage.

It's even less surprising to the 3.3 million cashiers who hold American's No. 2 job and work alongside those retail salespeople each day. To register workers making little more than $20,000 a year, retail salesperson is not only a position worth aspiring to but perhaps their only escape from being squeezed out by self-checkout and other new technology.
While larger retailers have no problem absorbing the growing number of low-wage workers, small businesses have told The Wall Street Journal that any slight uptick in labor costs -- including the minimum wage -- could prompt them to replace their counter help with tablets and software. Food vendors, for example, view cashiers as an unnecessary link in the supply chain that could be replaced easily by a touchscreen device that takes orders and accepts payment through services like Square.
Still, even if cashiers make the leap to retail salesperson and slightly better wages, their outlook remains bleak. The 2.9 million folks employed as food-service workers in the nation's No. 3 job are seeing their hours cut by employers concerned about health care costs. Plus, The Journal reports, their jobs are also being targeted by touchscreen software developers and $22,000 automated burger flippers.
Should low-wage workers land one of the 527,000 jobs the Labor Department says the retail industry has created since the end of the recession, competition for those gigs is fierce. Workers with a high school education or less who once populated retail positions are being pushed aside by college graduates. The Center For College Affordability and Productivity reported that nearly half of the college graduates from the Class of 2010 are working in jobs that don't require a bachelor's degree. A full 38% have taken positions that don't require a high school education. According to The Associated Press, that has dropped the median wage for college graduates significantly since 2000.
That leaves us with the modern symbol of American labor: An overeducated, overqualified person in a vest pointing Rosie the Riveter and the cubicle drones from "Office Space" to the gardening section.
DATA PROVIDERS
Copyright © 2014 Microsoft. All rights reserved.
Fundamental company data and historical chart data provided by Morningstar Inc. Real-time index quotes and delayed quotes supplied by Morningstar Inc. Quotes delayed by up to 15 minutes, except where indicated otherwise. Fund summary, fund performance and dividend data provided by Morningstar Inc. Analyst recommendations provided by Zacks Investment Research. StockScouter data provided by Verus Analytics. IPO data provided by Hoover's Inc. Index membership data provided by Morningstar Inc.
MARKET UPDATE
[BRIEFING.COM] The stock market finished the Tuesday session on the defensive after spending the entire day in a steady retreat. The S&P 500 (-0.6%) posted its third consecutive decline, while the small-cap Russell 2000 (-0.9%) slipped behind the broader market during afternoon action.

Equity indices were pressured from the start following some overnight developments that weighed on sentiment. The market tried to overcome the early weakness, but could not stage a sustained rebound, ... More
More Market News