Saudi Prince Alwaleed sues over Forbes' rich list
The billionaire has filed a libel suit claiming the magazine's annual ranking of the world's wealthiest people underestimated his fortune.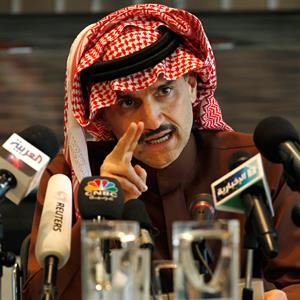 The rich aren't like you or me, and in the case of a Saudi prince, that also includes his ego about his sizable fortune.

Saudi Arabia's Prince Alwaleed bin Talal is suing Forbes magazine for libel, claiming the publication's annual rich list underestimated his fortune by $9.6 billion, the U.K.'s Guardian reports.
It's an unusual twist in the history of the Forbes rankings, given that the uber-wealthy are more likely to want to live under the radar. But the feud blew up in March when Prince Alwaleed cried foul over the magazine's most recent rankings. Alwaleed is known for his bets on American companies, including Citigroup (C) and AOL (AOL). 
Back then, the prince accused Forbes of using a "flawed" valuation method that, he said, was biased against Middle Eastern investors. Forbes returned the volley with a scathing piece about Prince Alwaleed, claiming the value he placed on his holdings seemed like an "alternate reality."
Now the feud is heading to court. Prince Alwaleed has filed a defamation claim in London against Forbes' publisher, its editor and two of its journalists, The Guardian notes. 
In a response to the legal action, Forbes raised a question about the prince's decision to file suit in the U.K., given that the country "has nothing whatsoever to do with our recent story, which raised questions about his claims about his wealth." The publisher added that Forbes stands by it story. 
Legal experts said the prince may have a hard time proving his case. 
"While I accept that Forbes magazine is published in England and Wales both in hard copy and on the Internet, it is difficult to see why this is the most appropriate forum for the case other than its perceived pro-claimant reputation," Richard Green, a partner at the law firm of Hill Dickinson, told The Guardian. 
Prince Alwaleed will also need to prove that the Forbes list caused serious harm to his reputation and serious financial loss. 
For the rest of us, the prince's assertion that he's worth $30 billion -- as opposed to Forbes' estimate of $20 billion -- may elicit the sound of the world's smallest violin. 
Follow Aimee Picchi on Twitter at @aimeepicchi. 
DATA PROVIDERS
Copyright © 2014 Microsoft. All rights reserved.
Fundamental company data and historical chart data provided by Morningstar Inc. Real-time index quotes and delayed quotes supplied by Morningstar Inc. Quotes delayed by up to 15 minutes, except where indicated otherwise. Fund summary, fund performance and dividend data provided by Morningstar Inc. Analyst recommendations provided by Zacks Investment Research. StockScouter data provided by Verus Analytics. IPO data provided by Hoover's Inc. Index membership data provided by Morningstar Inc.
MARKET UPDATE
[BRIEFING.COM] The stock market began the new week on a cautious note. The S&P 500 lost 0.3%, but managed to erase more than half of its opening decline. Thanks to the rebound, the benchmark index reclaimed its 50-day moving average (1976.78) after slipping below that level in the morning.

Equities slumped at the open amid a couple global developments that dampened the overall risk appetite. Continued student protests in Hong Kong and a potential response from China weighed on the ... More
More Market News