Impatient Denny's customer torches Christmas tree
A Texas man sets the holiday decor ablaze after waiting for his check. It's another day in a tough year for the diner chain.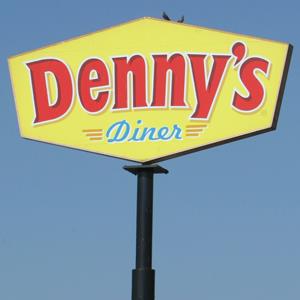 Usually the "War on Christmas" is restricted to pundit rhetoric and anonymous online complaints, but apparently the conventions for Christmas warfare change if you've been waiting too long for a check at Denny's (DENN).
Such was the case in San Antonio, Texas, where a customer, reportedly fed up with waiting for his check, decided to get the staff's attention by heading up to the cashier's station and setting a Christmas tree next to the register on fire. Local ABC affiliate KVUE said the man was angry about waiting "several minutes" for his check and caused about $150,000 in damage.
If the gentleman was taking a principled stand over the merits of service and prompt payment, he nullified it somewhat by immediately fleeing the scene, according to San Antonio NBC affiliate WOAI. If he was just upset over having to pay for Denny's menu items tied to "The Hobbit" films, torching a decoration that looks like one of the Hobbits' living tree friends, the Ents, likely won't get the signal to Middle Earth.
With WOAI reporting that the incident occurred at 4 a.m. on a Sunday, there's a chance the customer's motivations weren't all that clear. His whereabouts are still unknown, though local fire officials have restaurant surveillance video showing him turning the tree of leaves unchanging into a roasting, open fire.
Though the holiday season and Christmas itself are some of the biggest business days on Denny's calendar, this is a particularly bad year for the chain to lose business because of an impatient customer's inflammatory gesture. Sales in 2012 thus far are up only 1.1% from last year, while foot traffic through Denny's restaurants is down 1.8%.
If anything, Denny's has had its hands full putting out figurative fires after the November elections. John Metz, who owns 30 Denny's locations in Florida, proposed tacking on a 5% Obamacare fee to each bill and told Huffington Post, "Customers have two choices: They can either pay it and tip 15 or 20%, or if they really feel so inclined, they can reduce the amount of tip they give to the server."

Denny's managers in Florida were left to deal with the slumping sales and angry customer phone calls that followed and, eventually, aired their complaints to the chain's corporate offices. Denny's chief executive John Miller scolded Metz into an apology in mid-November and admonished him for putting Grand Slam Breakfast-sized words into the company's mouth.
Irate customers don't help matters, either. The retail world already found that as customers at an Alabama mall were unwittingly pepper sprayed on Thursday morning after a scuffle broke out in a line outside a Nike outlet, according to AL.com. On Black Friday in 2011, a woman waiting in line at a Wal-Mart in California pepper sprayed shoppers waiting for a video-game special and injured 20 people.

No one was hurt in the Denny's incident, but with casual dining chains already locked in a profit-killing price war, the last image Denny's wants associated with a holiday trip for cheap french toast are the burning embers of a disgruntled consumer's war on Christmas.
More from Money Now
DATA PROVIDERS
Copyright © 2014 Microsoft. All rights reserved.
Fundamental company data and historical chart data provided by Morningstar Inc. Real-time index quotes and delayed quotes supplied by Morningstar Inc. Quotes delayed by up to 15 minutes, except where indicated otherwise. Fund summary, fund performance and dividend data provided by Morningstar Inc. Analyst recommendations provided by Zacks Investment Research. StockScouter data provided by Verus Analytics. IPO data provided by Hoover's Inc. Index membership data provided by Morningstar Inc.
MARKET UPDATE
[BRIEFING.COM] The stock market finished the Tuesday session on the defensive after spending the entire day in a steady retreat. The S&P 500 (-0.6%) posted its third consecutive decline, while the small-cap Russell 2000 (-0.9%) slipped behind the broader market during afternoon action.

Equity indices were pressured from the start following some overnight developments that weighed on sentiment. The market tried to overcome the early weakness, but could not stage a sustained rebound, ... More
More Market News