Student loan debt helps stifle housing market
A generation of college grads, who owe more than $1 trillion, may have to postpone buying a home indefinitely.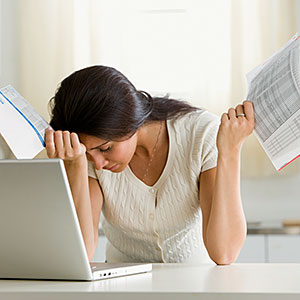 If you have friends just out of college and a few hours to kill, ask them how bad their student loan debt is.
The answer in almost every instance is more terrible than you can imagine. The Consumer Financial Protection Bureau says U.S. students have amassed $1.1 trillion in loan debt -- double what its was in 2007 and greater than any other consumer debt not tied to a mortgage.

Whether graduates have a "useless" degree in liberal arts or a "practical" degree like an MBA, chances are they're being absolutely flattened by school-related debt. Their jobs aren't helping pay down that debt, either, as roughly 284,000 college graduates are making minimum wage and The Center For College Affordability and Productivity reports that nearly half of the college graduates from the class of 2010 are in jobs that don't require a bachelor's degree. A full 38% have taken gigs that don't even require a high school education.
In fact, the only one who seems to be making more money as a result of taking on student loans is Uncle Sam, whose Education Department profited more than $100 billion from student loan debt last year, thanks to low government borrowing costs and fixed interest rates on these loans.

Now, the Federal Reserve Bank of New York has found evidence that student loan debt may prevent a large chunk of an entire generation of college graduates from securing a mortgage and owning a home.
As reported by Bloomberg, two-thirds of student loans are held by Americans under age 40. From the third quarter of 2012 to the fourth quarter, the number of people in that age group who own homes fell by 4.6%, the steepest drop since 1982. That's bad news for big mortgage lenders like JPMorgan (JPM) and Wells Fargo (WFC), but it's even worse for the legions of indebted young Americans dreaming of home ownership.

While foreclosure rates recede, housing supplies dwindle and home prices rise, those strapped graduates are seeing rates on some privately issued student loans jump to nearly 12%. Even though home prices are still 25% below their 2006 peak and mortgage rates hover around a near-record low of 3.5%, first-time homebuyers are still only marginally ahead of investors buying properties to convert to rentals, according to the National Association of Realtors.
In a market where there are three applicants for every job and half of the 37 million people with student loans are deferring payments, the job advantages a degree offers today outweigh the dream home of the future. Despite their debt, college graduates earned a median weekly income of $1,066 in 2012, compared with $652 for someone with a high school diploma, according to the Bureau of Labor Statistics.

And those with bachelors degrees or better saw a 5% to 6.7% increase in employment between 2010 and 2012, while their unemployment rate of 4.5% compared favorably to the 8.3% rate of those with only a high school degree. Those pluses, however, can't hide a major negative when it comes to new grads and homebuying.

DATA PROVIDERS
Copyright © 2014 Microsoft. All rights reserved.
Fundamental company data and historical chart data provided by Morningstar Inc. Real-time index quotes and delayed quotes supplied by Morningstar Inc. Quotes delayed by up to 15 minutes, except where indicated otherwise. Fund summary, fund performance and dividend data provided by Morningstar Inc. Analyst recommendations provided by Zacks Investment Research. StockScouter data provided by Verus Analytics. IPO data provided by Hoover's Inc. Index membership data provided by Morningstar Inc.
MARKET UPDATE
[BRIEFING.COM] Alibaba Group (BABA 90.92, +22.92) is up big. The major indices are not. In fact, the higher the opening indication for Alibaba went, it seems the more the indices faded from their opening strength.

That could be owed to Alibaba drawing buying interest away from everything else. Volume in the stock is already a stunning 202 million shares, which is giving a huge lift to NYSE totals on this quarterly expiration day for stock options, index options, ... More
More Market News
TOP STOCKS
Up next: The biggest bank IPO ever
The expected $3.36 billion offering from Citizens Financial Group won't come close to Alibaba's, but it will be an important one for the market.