Got diet chocolate milk?
With milk sales going down the drain, the dairy industry wants the US to approve low-calorie sweeteners for the kid-targeted drinks.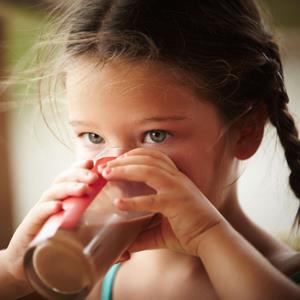 The milk industry is dealing with a crisis, with sales evaporating to their lowest level since 1984. Sports drinks and bottled water are taking the place of dairy as consumers worry about calories and some schools cut back on serving chocolate milk to kids.
But now, the dairy industry is asking the U.S. Food and Drug Administration to approve the use of low-calorie sweeteners -- including aspartame -- in milk products. So, the agency last week asked for comments and data about the issue. 
The reason? Allowing low-calorie sweeteners in milk would "particularly benefit school children" who tend to drink chocolate and strawberry milk at school, according to the petition from the National Milk Producers Federation and the International Dairy Foods Association. 
Chocolate milk sold by companies such as Nestlé (NSRGY) is already available in options like Nesquik's "no sugar added" flavored drinks, but the dairy industry is arguing that labeling terms such as "reduced calorie" don't appeal to kids.
Chocolate milk is already something of a lightning rod among parents, with the sugar-laden drinks cited as one contributing factor to a rise in obesity among children. Some school districts have sought to ban chocolate and strawberry milk from their cafeterias, while celebrity chef Jamie Oliver has singled out sweetened milk as "really bad for [kids'] health."
The milk industry's options are currently limited because the FDA now allows "milk" only on beverages with added ingredients containing calories, according to the Huffington Post. That means ingredients such as sugar and high-fructose corn syrup. 
Nevertheless, aspartame-sweetened milk might not make parents feel any better. The sweetener, sold under the brand names Equal and NutraSweet, has been rumored to be linked to a number of health issues including cancer, although the American Cancer Society says "no health problems that have been consistently linked" to its use.

Yea put in cancer causing man made chemicals instead... great idea.  So we will have fat kids dying of cancer.  Yea, chocolate milk is the only reason kids are overweight.  How about declining recess time? 
I have personally known someone who died of cancer and it was linked to aspartame so take the "not consistently linked" and shove it up your ****.

Whether aspartame is or isn't cancer causing-there are reports on both sides-it's a man-made chemical sweetener that has no place in milk.  It has been proven that the use of artificial sweeteners causes people to develop a false sense of sweetness and crave MORE sugar in the long run-NOT something we want to develop in anyone, especially young children. Aspartame has also been linked to migraines and other headaches which could lead to learning and focus issues for schoolchildren.  There is no need for the addition of added sweeteners-real or fake-in something as simple and wholesome as milk.

Why can't the United States learn anything from European nations? Such as BANNING ASPPARTAME!! I completely agree with
BigBadBaldBallsBilly​.
  Putting cancer causing chemicals in our milk. WTF! Aspartame, or any kind of artificial sweetener shouldn't be allowed in anything! EVER! Kids aren't overweight from chocolate milk. Give me a break. They are overweight because they don't get enough physical activity and so many parents shove fast food at their kids instead of taking the time to cook a real meal at home.

There are plenty of things that could be put in milk that children might need, but sweeteners are not on the list.  Milk does not need sugar in any form, and milk does not need artificial sugar in any form.  Children are being given juice instead of water getting them addicted to sugar as babies.  This progresses into addiction to soda pop and chocolate milk  which will last into adulthood.  No sugar substitute has gone without serious health related issues and cancer-related deaths, so it is just a matter of time until the research catches up with the reality of the obesity issues, the neurological damage, and the links to cancer.  If people would stop getting their babies addicted to sugar, we could mitigate the problem by owning up to the fact the chemicals are no substitute for moderation.


Adding more chemicals into our food and natural beverage supply is irresponsbile to LIFE and QUALITY OF LIFE.
But hey as Monsanto's stock continues to rise the US is becoming aware of it's investors and most are in office in WA. DC!
THE FDA has a choice to make---Quality of life or profits as you cnnot have both! 
Are you sure you want to delete this comment?
DATA PROVIDERS
Copyright © 2014 Microsoft. All rights reserved.
Fundamental company data and historical chart data provided by Morningstar Inc. Real-time index quotes and delayed quotes supplied by Morningstar Inc. Quotes delayed by up to 15 minutes, except where indicated otherwise. Fund summary, fund performance and dividend data provided by Morningstar Inc. Analyst recommendations provided by Zacks Investment Research. StockScouter data provided by Verus Analytics. IPO data provided by Hoover's Inc. Index membership data provided by Morningstar Inc.
MARKET UPDATE
[BRIEFING.COM] The stock market began the new trading week on the defensive note with small-cap stocks pacing the retreat. The Russell 2000 (-1.4%) and Nasdaq Composite (-1.1%) displayed relative weakness, while the S&P 500 lost 0.8% with all ten sectors ending in the red.

Global equities began showing some cracks overnight after China's Finance Minister Lou Jiwei poured cold water on hopes for new stimulus measures. Specifically, Mr. Lou said the government has no plans to change ... More
More Market News